College Grad's Tweet About Her Dad Will Make You Ugly Cry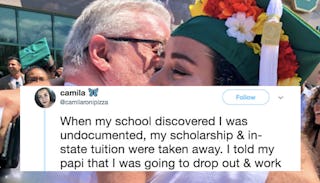 Image via Twitter/@camilaronipizza
Camila Silva's story about being an undocumented student is a must-read
For college students all over the country, it's graduation season. A feat to be proud of for any graduate, to be sure. But for some, the achievement of completing college means so much more when the odds are stacked against you.
One young woman's viral tweet about what it means to graduate as an undocumented student and the emotional moment she shares with her dad will make you cry ugly tears.
Camila Silva graduated from the University of South Florida this weekend, but the road to finishing up her career as an undergrad was anything but easy. "When my school discovered I was undocumented, my scholarship and in-state tuition were taken away," she tweeted.
Prior to graduation, Silva was in Colorado interviewing for a Master's program. According to a blog post she wrote about the experience, she learned her current school, USF, had discovered she was undocumented. Despite the fact that she's lived in the U.S. for 13 years, she no longer had access to scholarship funds or in-state tuition. Understandably, she was devastated.
"I told my papi that I was going to drop out & work instead," she tweeted. "My papi told me he'd cut his arm off before I dropped out. We made it work. Today I graduated and he's why."
After the conversation with her father, Camila says she realized her education belonged to not just her, but her entire family. "This was for my parents, immigrants to a country that tries and strips them of their culture and rejects them in so many ways," she writes. So she and her family refused to be deterred and set up a game plan to help Silva graduate — no matter what it took.
"My mom began cleaning houses, her 60-year old body bending and stretching to polish the homes of people who voted to kick her out of this country, for my education," she writes. "I started working thirty hours a week at a fast food restaurant while balancing a full load of classes. We made it work. We made it happen. I made it happen."
Camila says her in-state tuition problem was eventually rectified through the passing of HB 851. She also completed her FAFSA and though she didn't recieve financial aid, she was able to defer tuition in order to stay in school and graduate on time.
https://twitter.com/jetpack/status/992811191734099969
It's heartachingly unfair that a person who has lived and worked in the country they've called home for over a decade would have to face such a shitty reality — especially when trying to finish their education. Plenty of people on Twitter seem to agree.
In her blog post, Camila says she feels emotional when she thinks about how she was able to succeed in spite of the fact that the country she lives in has a system in place to make it as difficult as possible for first-generation immigrants to do just that.
"I was not supposed to successfully apply to masters programs and interview at some of the top-ranked ones. I was not supposed to thrive and make a home out of an institution that was not created for me to succeed. But I did that shit and I did it well."