Kids Take 'Nightmare Before Christmas' Cosplay To A Whole New Level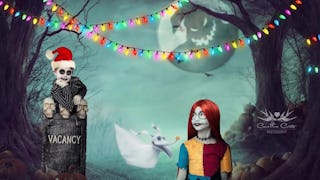 Image via Camillia Courts
Halloween Town and Christmas Town collide in this perfect photoshoot
When your mom is a photographer who enjoys Disney cosplay, that's gotta be one heck of a cool experience if you're a kid. Camillia Courts and her daughter Layla have been slaying the cosplay game with amazing Disney-inspired photo shoots for awhile, and their latest adventure is nothing short of epic.
In an homage to The Nightmare Before Christmas, Courts had her daughter Layla and Layla's friend Evan dressed up as Jack and Sally in a photoshoot that is almost too perfect for words.
"In total the makeup took about three-and-a-half hours for both Jack and Sally and another hour and a half for shooting," Courts tells Scary Mommy. "I've spent at least 20 hours editing the photos."
And it shows. Just look at the attention to detail in these pictures — from the makeup to the clothes and props, whimsical doesn't even begin to describe it.
Courts says she purchased Layla's "Sally" dress from Etsy. "I strive for screen accuracy and as soon as she put on the dress, she totally transformed," Courts said.
Courts, who has been cosplaying in Disney-inspired photos for three years, says the experience in doing this has helped her daughter "come out of her shell" a bit.
"She said she loves doing the photos because we get to spend time together, and she thinks it's fun to wear make up and a pretty dress."
What kid would't love turning into their favorite movie characters? Evan, the boy playing the role of "Pumpkin King" Jack Skellington in this session, is the son of the makeup artist Courts always uses for her shoots. "It was his first time getting make up done by his mom!"
Here's a fun behind-the-scenes video that shows how these two ordinary kids transformed into two extraordinary characters:
Courts says she has more ideas planned for 2018, so stay tuned.