This Vibrator Can Also Order You A Cheese Pizza, What A Time To Be Alive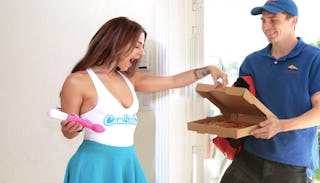 Image via Camsoda
The RubGrub orders your pizza at the click of a button
Forget about that one guy who walked on the moon, a company has created a vibrator that will order you a pizza after you orgasm.
Adult entertainment webcam platform, Camsoda, has debuted the RubGrub, yes, I said RubGrub, a vibrator that will order you a large cheese pizza from Domino's after you, um, finish your business.
How in the world is this actually possible and where can I get my hands on one, you may ask?
The vibrator has a programmable 3D printed Bluetooth button (similar to the Amazon Dash button) that fits on their Lovense Nora Rabbit which connects directly to the Domino's mobile app. So when you are done visiting Pleasure Town, simply press the button and voila, dinner is served.
The app saves your order, payment, and delivery information so if you decide you want a little sausage next time, you can update your preferences. Here's hoping the delivery person isn't privy to how the order came in or things could get a little awkward.
The kind folks at Camsoda understand us ladies often feel famished after a good sesh and don't have the energy to walk to the kitchen to make ourselves a ham sandwich. "Masturbation, while ultimately enjoyable, can be a strenuous physical activity during which an individual exerts a lot of energy and burns many calories," CamSoda Vice President Daryn Parker said on the website. "Inevitably, once someone has climaxed, they feel lethargic and hungry. Now, in order to enjoy your Saturday night, all you need is your RubGrub device."
Horny and hungry (which will hereafter be referred to as "horngry") customers can purchase the RubGrub button for a mere $19.95 if you already own the Nora Rabbit. If not, consider investing in their bundle pack for $119.95. Obviously you'll have to consider how many pizzas you'll need after stuffing your envelope because that shit can add up in a month. But hey, can you really put a price on happiness?
The initial launch will only allow you to order a Domino's pizza, but the entertainment company has big plans to expand to additional restaurant chains, including those serving Mexican and Chinese food because sometimes the universe shines down on us.
There's no telling where this could lead. Today it's pizza, but tomorrow it could connect to a car service, grocery delivery, online shopping, and any number of services. "Kids, your driver will pick you up at five. Dinners on the table and Mommy's going to do some Christmas shopping in her bedroom. She's not to be disturbed."
When "Get off and get stuffed" is your company's slogan the possibilities really are endless.
This article was originally published on