Rich Couple Flies To Remote Town To Trick Their Way Into Getting Vaccines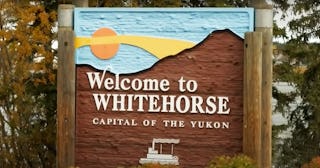 CTV News/Youtube
A wealthy Vancouver couple have been fined for passing themselves off as members of a mostly-indigenous community in order to get the COVID-19 vaccine
Since the first vaccines became available back in December 2020, stories of "leftover" vaccine being administered to people who wouldn't ordinarily qualify for the vaccine has became a common narrative during the pandemic. We're talking a batch of vaccine that's about the expire and hospital admin or pharmacists scrambling to get shots in arms to anyone on the premises and to that we say, at least the vials aren't going to waste. However, on the flip side, you have privileged and wealthy individuals, actively trying to dupe vaccine administrators by misrepresenting themselves in an attempt to take a vaccine away from someone who actually deserves it, which is exactly what two assholes in Canada just did.
One Canadian couple chartered a private plane to a remote village of primarily indigenous people and passed themselves off as locals in order to jump the line and get a shot.
Rodney and Ekaterina Baker, a CEO of a gaming corporation and an actress, both of Vancouver, British Columbia, who have been described as "privileged multimillionaires," chartered a private plane to travel over 1,000 miles to Beaver Creek, in Yukon, Canada a small town of less than 100 citizens near the Canada/Alaska border, where they passed themselves off as locals in order to get a vaccine.
The New York Times reports that the small community was made a priority for vaccinations in part because of its remoteness, and adults of all ages who actually live in the community could get a shot if they wanted it. Knowing that Yukon ID cards were not required to get the shot, the Bakers took advantage of this and chartered two flights, first the Yukon capital city of Whitehorse and then on to Beaver Creek, where they claimed to be employees of a local motel. Even worse? Angela Demit, the chief of the White River First Nation, said in a statement to The Washington Post that the community of Beaver Creek is predominately Indigenous and she believes this wealthy couple "assumed we were naïve" and could be taken advantage of.
"I can't believe I've ever seen or heard of such a despicable, disgusting sense of entitlement and lack of a moral compass," Mike Farnworth, the British Columbia solicitor general, told the Vancouver Sun.
Not only did the Vancouver couple cut the line, but they potentially exposed this small tight-knit community of 100 people to COVID-19.
The only silver lining is that the Bakers are now facing fallout from their actions. They were fined $1000 (if you ask me, that's not enough) for refusing to quarantine for 14 days upon arrival in the Yukon capital, even though they said they would. Mr. Baker has also been forced to resign from his post as chief executive of the Great Canadian Gaming Corporation, which operates casinos and hotels across Canada.
"I am outraged by this selfish behavior and find it disturbing that people would choose to put fellow Canadians at risk in this manner," John Streicker, Yukon's community services minister, said in a statement. "Reports allege these individuals were deceptive and violated emergency measures for their own advantage, which is completely unacceptable at any time, but especially during a public health crisis."
Sadly, I don't think this is the only story we're going to hear of wealthy and privileged individuals using their access and finances to acquire the COVID-19 vaccine before it's their time. You shouldn't be able to pay your way out of a pandemic.