What I Wish Our Doctors Had Told Us About Infertility
by Sara Mauskopf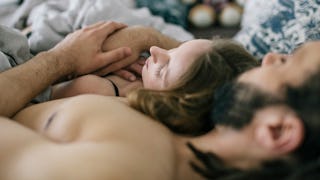 Willie B. Thomas / Getty Images
Last year, we received the news that my husband had cancer. After what we thought was a routine tonsillectomy to deal with his swollen tonsils, he was diagnosed with lymphoma — diffuse large B-cell non-Hodgkin's lymphoma to be exact — an aggressive cancer that required swift action and high-dose chemotherapy to cure.
The days and weeks following his diagnosis were a whirlwind of figuring out how to save my husband's life. I dropped everything else and spent countless hours coordinating across oncologists, pathologists, radiologists, and multiple incompatible medical systems. I stopped working. I stopped taking care of my daughter. I stopped eating.
The last thing on my mind during that time was having another baby. Not only was I preoccupied with my husband's survival, but I already had an infant daughter who I could barely take care of given the circumstances.
It's by sheer luck that an email that I happened to read landed in my inbox during those early days of cancer. I got so many messages of support during that time period that I didn't have time to read through them all. This one though came from a woman I barely knew. Her husband, a former acquaintance from high school, was also battling cancer. She told me to inquire about fertility preservation before my husband started chemotherapy.
She made a compelling case. She told me that the process of freezing sperm was quick, painless, and would be unlikely to cause any delay in his treatment. The icing on the cake was that she gave me the number of a clinic I could call near our house.
Right before my husband started treatment, I asked his oncologists about freezing his sperm. They both admitted to me they didn't know much about how his imminent chemo regimen would affect his fertility but that they thought fertility would be unaffected. Their priority was saving his life, not planning for the life he'd have after cancer.
The doctors' noncommittal answers about fertility was a chance I wasn't willing to take. I ignored their recommendation and called the clinic. They got us in the next day, which happened to be only a couple of days before my husband started his cancer treatment. We paid out of pocket and froze 10 vials of sperm.
As it turns out, many IVF clinics have programs to help cancer patients and will rearrange their schedules to get cancer patients seen right away. In our case, the process was extremely simple (my husband produced a sperm sample, and they froze it), though for women it's more involved as the process of growing and extracting eggs is more invasive. In some cases, this may be covered by insurance, but we were in too much of a time crunch to inquire.
Fast-forward to now. It's 1 1/2 years later, my husband is cancer-free, and we have resumed our lives. With my daughter in preschool and things returning to normal, we have started thinking about expanding our family and giving our daughter a sibling. Siblings are a real gift, and even if they don't end up being your best friend, you share a common upbringing and bond that you don't find in the same way with other family members. My husband and I both have siblings whom we love (most of the time), and we want the same for our daughter.
Unfortunately, after some testing (known as semen analysis), we received the news that my husband's semen no longer contains any sperm. While everything seems normal to the naked eye, he now has a condition known as azoospermia which means we will not be able to conceive future children the old-fashioned way.
The good news is we still have a shot at future biological children thanks to those 10 vials of sperm and a process called IVF. I feel incredibly lucky that these things exist, though I recognize that there are other incredible ways to expand our family too.
It's an option we almost didn't have.
It's an option that the medical community doesn't tell you enough about.
I have been hesitant to share this part of our journey because it felt too personal. Infertility is still a taboo topic and male infertility is especially hush-hush as it's seen as emasculating. But I wouldn't have this option today if someone didn't share their journey with me. As we start the next part of our journey, the journey to conceive a child via IVF, it feels like an opportune time to break the silence on this topic. If our story helps even one other family keep this option open like it did for us, it's all worth it.
This article was originally published on