Nearly Half Of New Cancer Patients Spend All Their Life Savings On Treatment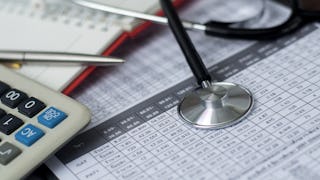 Image via seksan mongkhonkhamsao / Getty Images
This new cancer study is just more bad news about our unsustainable healthcare system
It's not news to anyone that healthcare is far too expensive in America. But a new study published in the American Journal of Medicine is shining light on the problem by revealing that nearly half of cancer patients in a 12-year study had completely exhausted their financial assets within two years of being diagnosed.
The study followed 9.5 million people diagnosed with cancer between 2000 and 2012. Their ages ranged from 59 to 78, so these weren't young people who haven't yet had a chance to amass some retirement savings or assets. And yet, in the first two years of treatment, 42.2 percent of them had completely spent all their life savings.
The study found that those who were uninsured, older, female, retired, or on Medicaid were more likely to exhaust their life savings paying for their cancer treatments. On average, study participants lost $92,098 to paying for their treatments in those two years, whether they were insured or not.
This is pretty disturbing news no matter how you look at it. But taking into account some other recent statistics about the financial state of many Americans, it paints a pretty bleak future for anyone unlucky enough to come down with a disease.
For example, a Federal Reserve report, the Survey of Household Economics and Decisionmaking, released earlier this year found that 40 percent of Americans don't have enough cash on hand to pay for a single emergency expense, let alone a major medical emergency like a cancer diagnosis.
That same report found that 25 percent of Americans have no retirement savings or pensions. That's a quarter of Americans who don't have any money at all to put toward a cancer fight if need be. The more than $90,000 the American Journal of Medicine study found patients spent on average per year on their cancer treatments? A quarter of Americans don't have even that.
With midterm elections right around the corner, this news is now especially important and timely. When heading to the polls, keep in mind that your vote can change the healthcare landscape in this country. We can all hope we're lucky enough to never suffer a medical emergency like cancer. But if we do, we should be able to focus all our energy on healing, not on avoiding financial ruin.