'I'd Be Dead': Cancer Survivor Attempts To Explain The Importance Of Obamacare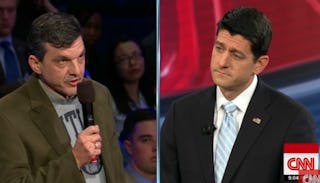 Image via YouTube
Cancer survivor explains to Paul Ryan what Obamacare means to him
Last night, House Speaker Paul Ryan held a town hall meeting in Washington where he faced questions from everyday Americans about possible changes resulting from the incoming administration. One question in particular stood out because it's a concern millions of people have right now; the repeal of the Affordable Care Act, aka, Obamacare.
This week, Senate Republicans took a huge step toward dismantling the ACA, approving a budget plan that would allow them to undo much of the healthcare bill while preventing a Democratic filibuster. They did it in the dead of night, like the cowards they are, and now, Americans are rightly terrified of losing their healthcare without a new bill in place.
Cancer survivor Jeff Jeans became an overnight symbol of those who will be affected by major provisions in the law being stripped, namely, the guarantee of coverage for those with pre-existing conditions. During the town hall, Jeans used his own experience in a testimony to Ryan about the importance of the ACA in literally saving his life.
"Because of the Affordable Care Act, I'm standing here today," Jeans told Ryan and the crowd, after explaining his dedication to past Republican presidents and his prior opposition to the ACA before receiving his own devastating cancer diagnosis. He says he was given six weeks to live, and if not for the ACA, he surely would've died. He ends his remarks saying, "I want to thank President Obama from the bottom of my heart because I'd be dead if it weren't for him."
So would plenty of people whose pre-existing conditions previously stopped them from being eligible for health insurance coverage. And now, many Americans are understandably concerned about where the repeal of the ACA will leave them. There are a lot of questions right now from frantic citizens, wondering how quickly the repeal will go into effect, and for them, there is some slightly reassuring news.
No meaningful change can occur in 2017, regardless of what bills are passed. According to The New York Times, the fact that contracts are already signed and regulations in place for this plan year means no "major disturbances" can occur until at least early 2018. However, this serves as little comfort to those concerned about pre-existing conditions that will still be here in a year.
Still, all signs point to any real change being a ways off. The repeal bill needs to be drafted and introduced, then, it needs to pass through the House and Senate, which isn't a guarantee. Along with Senate Democrats, there are also several Republican senators who aren't totally behind the idea of repealing the ACA without a replacement ready to roll out.
All told, it should take about two to three years during which some elements of the ACA will still be in place as a new plan is developed. Congressional leadership has been vocal in saying that they want a stable transition from the ACA to the new system, and hopefully, that will be the case.
Until then, we can call our senators and congressmen and women to let them know our concerns. There's a number of reasons to "stay woke" in 2017, and this is definitely one of them.