Cate Blanchett Calls For Change In Film Industry During 'Women's March' In Cannes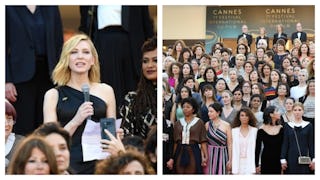 Image via Getty/Venturelli
Blanchett's speech also calls for equality and diversity across all workplaces
During Saturday night's red carpet at the Cannes Film Festival, 82 women with various roles in the film industry linked arms in a powerful promotion of gender equality in the film industry.
As all the women stood on the steps of the Palais, Cannes Film Jury President — the amazing Cate Blanchett herself — delivered a statement calling out the film industry for its lack of female representation.
Blanchett also called attention to the festival itself, and its low number of women who have been selected in the official competition through the years. "On these steps today stand 82 women representing the number of female directors who have climbed these stairs since the first edition of the Cannes Film Festival in 1946. In the same period 1688 male directors have climbed these very same stairs," she states.
"These facts are stark and undeniable," Blanchett continues. "Women are not a minority in the world, yet the current state of our industry says otherwise. As women, we all face our own unique challenges, but we stand together on these stairs today as a symbol of our determination and commitment to progress."
Blanchett mentions that even though they're calling out the film industry specifically, each of the women stands with women in all industries. And then, because she's a total bad ass, she dove headfirst into a list of demands the women in attendance came up with.
"We will expect our institutions to actively provide parity and transparency in their executive bodies and safe environments in which to work," Blanchett states. She calls for equal pay for equal work and diversity in all workplaces across the board.
The Cannes march is the latest event showcasing a newfound awareness and action that has come forth in the film industry since Harvey Weinstein's sexual misconduct became public knowledge and the #MeToo movement was ignited. It's the largest protest since actresses universally wore black to the Golden Globes earlier this year, to raise awareness for the anti-harassment initiative Time's Up.
"We acknowledge all of the women and men who are standing for change," she says. "The stairs of our industry must be accessible to all. Let's climb."