Trump Declines Request To Lower Flags For Capital Gazette Shooting Victims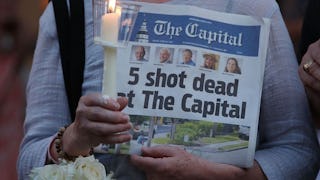 Image via Mark Wilson/Getty Images
Mayor requested flags be lowered in memory of Capital Gazette shooting victims
Donald Trump refused to lower American flags in honor of the five people who were shot and killed at the Capital Gazette newspaper last week. It's literally the least he could do to show respect for the newspaper employees who lost their lives in the senseless tragedy.
Trump should have made the call to lower the flags to half-staff nationwide like he did following the shootings at Santa Fe High School in Santa Fe, Texas and Marjory Stoneman Douglas High School in Parkland, Florida. But since he didn't do that, Annapolis Mayor Gavin Buckley made a formal request for the president do so.
"Obviously, I'm disappointed, you know? Is there a cutoff for tragedy?" Buckley said Monday. "This was an attack on the press. It was an attack on freedom of speech. It's just as important as any other tragedy."
But Trump still refused to do it. It's especially disheartening considering Trump constantly attacks the press. By refusing to honor their deaths, Trump reminded the world once again how little respect he has for the first amendment and the role the press play as watchdogs of corrupt politicians.
Governor Larry Hogan made the call to lower Maryland state flags to half-staff. But Buckley said had hoped Trump would do the right thing and lower the American flags as well. "It's not as noticeable when a state flag is down but you still have your main flags at full mast," the mayor told reporters.
Trump has been attacking the press for years but really ratcheted up his efforts when he became a presidential candidate. He even admitted to CBS "60 Minutes" correspondent Lesley Stahl that his constant attacks on the press were done to "discredit" journalists. The way Trump sees it if people are mad at the press they're less likely to believe he's as horrible as everyone says he is. "He said, 'You know why I do it? I do it to discredit you all and demean you all so when you write negative stories about me, no one will believe you.' He said that," Stahl said of Trump.
Sure, Trump offered thoughts and prayers following the shooting, but it's obvious to everyone that he doesn't really care about victims of mass shootings – otherwise he'd do something following the nearly weekly events.
Capital Gazette staff writer Selene San Felice said it best when she appeared on Anderson Cooper 360 following the newsroom shooting. "I'm going to need more than a couple days of news coverage and some thoughts and prayers because our whole lives have been shattered," she said. "Thanks for your prayers, but I couldn't give a fuck about them if there's nothing else."