It's Been A Busy Weekend Of Arresting Pro-Trump Capitol Rioters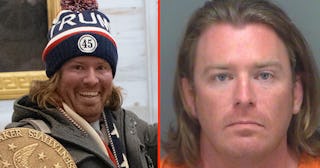 Win McNamee/Getty Images, Pinellas County Sheriff's Office
Worried the rioters ran away and wouldn't get caught? Well, the FBI has begun to file charges against some agitators
Finally, a smidgen of good news: After fears that bro body spray manufacturers had more of a backbone than the GOP, the rioters who attempted to take over the U.S. Capitol earlier this week are beginning to be arrested and charged. Among those apprehended were the rioters photographed carrying House Speaker Nancy Pelosi's lectern and the man who calls himself a "QAnon Shaman."
Richard Barnett of Arkansas, allegedly the man in the photo who sat at Pelosi's desk, was charged with theft of public property, knowingly entering and remaining restricted building grounds without authority, violent entry, and disorderly conduct on Capitol grounds.
Doug Jensen of Iowa is allegedly the man in multiple videos and photographs at the U.S. Capitol on Wednesday wearing a knit cap and a "QAnon" T-shirt over a sweatshirt. In one picture, his arms are spread wide while confronting a police officer. Jensen's been charged with knowingly entering or remaining in any restricted building or grounds without lawful authority, disrupting the orderly conduct of government business, violent entry and disorderly conduct in a Capitol building, parading, demonstrating or picketing in a Capitol building, and obstructing a law enforcement officer during a civil disorder.
The man carrying Nancy Pelosi's Speaker of the House lectern is allegedly Adam Johnson of Florida. He's been charged with theft of government property, disorderly conduct on Capitol grounds, and entering restricted federal property.
Derrick Evans, a recently elected state delegate for West Virginia, has resigned from his office. The lawmaker originally rebuffed calls for his resignation. Evans was charged with entering restricted federal property and disorderly conduct on Capitol grounds.
The feds allege Arizonan Jacob Anthony Chansley, also known as Jake Angeli, is the man in one of the most wildly circulated photos of the week. The organization claims Chansley is the man in the viking hat, painted face and bare chest on the Senate floor. The self-described "QAnon Shaman" follower was charged with entering restricted federal property and disorderly conduct on Capitol grounds.
According to ABC15 in Arizona, DOJ officials say they verified Chansley's identity by comparing riot photos to his social media accounts, including his YouTube channel. The outlet reports Chansley called the Washington Field Office of the FBI to voluntarily speak with law enforcement. The FBI agents spoke with Chansley and he confirmed to them that he was the person in the face paint and headdress in the Vice President's chair in the Senate.
Chansley mentioned that he came with other "patriots" from Arizona, at the urging of the President that all "patriots" head to D.C. on Jan. 6.
USA Today reports that as of Friday, the Justice Department filed over 50 case criminal cases tied to the riot at the Capitol, which left five people dead. Among the charges are carrying a loaded handgun and Molotov cocktails, and making a threat against Pelosi.
The nationwide search for the rioters has been made more frustrating by the ease in which participants were allowed to leave the Washington D.C. area. The Washington Post reports law enforcement agencies are using cell phone records and even Wi-Fi logins to catch insurrectionists.
Rioters' families seem surprised that the organization is tracking down suspects.
According to FBI Washington Field Office chief Steven M. D'Antuono: "Just because you've left the D.C. region, you can still expect a knock on the door if we find out you were part of criminal activity in the Capitol."