A Capitol Police Officer On Duty During Riot Has Died By Suicide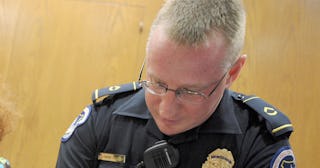 Tom Williams/Roll Call/Getty
A US Capitol Police officer on duty during last week's acts of sedition by Trump supporters has died by suicide, his family has announced
With the report of the FBI beginning to apprehend and arrest those participating in last week's coup attempt at the US Capitol, and then the news the House submitted a new article of impeachment against Trump for his role in inciting the violence, we could be forgiven for thinking we had perhaps turned a corner on bad news.
But now, along comes some tragic news: a Capitol Police officer who was on duty during the attempted coup has died by suicide. While most GOP members have condemned the results of the attempted takeover, many in the party have stopped short of criticizing Trump as the instigator of the siege.
The officer, Howard Liebengood, worked in the Senate Division. A lawyer for the family told Buzzfeed News that Liebengood had been at the Capitol during the uprising.
"His death is a tragedy that has deprived all of us a dedicated public servant," Pollack said. "His family has suffered a devastating loss and asks that they be given space to grieve in private."
"We are reeling from the death of Officer Liebengood," Gus Papathanasiou, chair of the Capitol Police Labor Committee, said in a prepared statement. "Every Capitol Police Officer puts the security of others before their own safety and Officer Liebengood was an example of the selfless service that is the hallmark of USCP."
Nancy Pelosi took to Twitter to offer her condolences.
Liebengood is now the second officer to die following the Capitol riot. Officer Brian Sicknick died last Thursday from injuries he received 'while physically engaging with protesters' during the siege, People reports.
"He was a great guy to work with," a colleague of Sicknick, who asked to remain anonymous, told the magazine. "You knew you could count on him to do his job and be right there when you needed him. He believed in this country and he believed in all of us [who worked with him]."
The Capitol Police says more than 50 officers from the division and Metropolitan Police Department sustained injuries, with many requiring hospitalization.
"The violent attack on the U.S. Capitol was unlike any I have ever experienced in my 30 years in law enforcement here in Washington, D.C.," said Capitol Police Chief Steven Sund, according to People. Sund resigned from his post last week. "Make no mistake – these mass riots were not First Amendment activities; they were criminal riotous behavior."
In a tweet by Michael Kaplan of CBS News, many Capitol Police officers have spoken about self-harm in the days that followed the violence. Reports also surfaced of an officer who turned in her service weapon out of fear of what might happen.
Kaplan went on to say the law enforcement agency is 'demoralized' after last week's traumatic events. "There's tremendous moral injury, a sense of failure weighing them down. They went home to family and were asked how did this happen. And it's very easy for those officers to interpret that as 'how could you let this happen?'"
An important note: the National Suicide Prevention Lifeline can be reached at 1-800-273-8255. If you're on a mobile device, you text TALK to 741741 seven days a week for anonymous. The free service is available 24 hours a day.