Capitol Rioter Turned In By His Ex After He Called Her A 'Moron'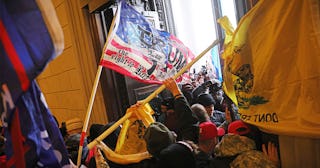 Win McNamee/Getty
A Capitol rioter called his ex-girlfriend a "moron," so she gave the FBI everything they needed to build their case against him
It's been nearly two months since a pro-Trump, insurrectionist mob stormed the U.S. Capitol in an attempt to overturn the results of the 2020 presidential election. In the time since then, the FBI has fielded thousands of tips and sorted through mountains of evidence as it continues to find and charge the people responsible for the awful day. One of them is Pennsylvania resident Richard Michetti, who texted his ex-girlfriend photos and videos from the riots throughout the day. Then he called her a "moron," so she gave all those photos and videos to the FBI. What a queen.
Charging papers against Michetti were just unsealed by the court, which revealed all the texts and evidence that his ex-girlfriend, who isn't named in the court papers, handed over. He was arrested on Tuesday and charged with a felony count of obstructing official proceedings of Congress, as well as several misdemeanors related to entering a restricted building or grounds and violent entry and disorderly conduct on Capitol grounds.
The texts Michetti sent to his ex start on Jan. 5, when he told her he was getting on a train and would let her know when he arrived in Washington. On the 6th, he texted her, "it's going down here we stormed the building they held us back with spray and teargas and paintballs." Three minutes after that text, he confirmed he was inside the Capitol building to "stop the vote it's fraud this is our country."
Around half an hour after that, Michetti sent two videos that showed he was inside the Capitol building.
Later in the day, close to the time that the National Guard started clearing the building, Michetti texted his ex, "If you can't see the election was stolen you're a moron." Her reply isn't included in the court documents, but it appears she tried to argue with him, because his next text reads, "I understand your point but what I'm saying is [Ex's name] the election was rigged and everyone knows it. All's we wanted was an investigation that's it," followed by another string of messages that repeated lies told by Donald Trump after the election.
Michetti's next court appearance is scheduled for March 1. Unfortunately, he won't be sending any more evidence to his ex in the meantime — one condition of his release is that he's not allowed to contact "potential witnesses" in his case. Bummer.