By 2025 Nearly All New Vehicles Will Come With Alerts To Prevent Hot Car Deaths
by Christina Marfice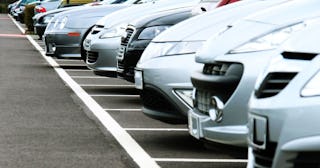 undefined undefined/Getty
Almost all automakers have agreed to add alarm systems by 2025 to help prevent hot car deaths
During the summer, 2-3 kids die every week because they were left in cars on hot days. Hot car deaths are entirely too common, but automakers are banding together to try to make them a thing of the past.
Twenty automakers have all agreed that by 2025, all of their new vehicles will come outfitted with safety features that will be designed to help prevent hot car deaths. Those features include an electronic alert system that will give the driver of the car both visual and audio reminders to check the back seat before they leave. These alerts are already available on some new cars, like General Motors' 4-door sedans and SUVs starting with the 2019 model year. They are triggered to go off if any of the car's back doors were opened before the trip started.
"Automakers have been exploring ways to address this safety issue, and this commitment underscores how such innovations and increased awareness can help children right now," said David Schwietert, interim CEO of the Alliance of Automobile Manufacturers, a trade group that includes almost every automaker in the U.S. Global trade groups that represent other countries are also pledging to do the same.
The agreement says the alert technology will be available on all new vehicles by 2025, but some companies are rolling it out even sooner than that. GM already has it available, and Hyundai will offer it by 2022. The U.S. House is also currently considering a bill that would require all new cars to have some kind of safety feature to help prevent hot car deaths.
The agreement that automakers made to have this technology installed within the next few years is just a minimum, Schwietert said. Individual companies are welcome to install technology earlier than 2025, as well as explore other technologies that can help prevent hot car deaths, which are being developed all the time. Some cars have alarms that will go off if movement is detected inside after you end your trip. There are also apps that can send reminders to your phone to double-check your backseat after taking a drive somewhere.
Unfortunately, this technology won't account for the nearly one-third of hot car deaths that happen because children get into a car on their own and get trapped. As new technology continues to get developed, we can only hope that someone comes up with a comprehensive system that can detect when there's a person in the car (even if it's a tiny, sleeping infant) and alert someone who can help.
This article was originally published on