It's Absolutely Not Safe To Let Your Baby Sleep In A Car Seat -- Here's Why
by Cassandra Stone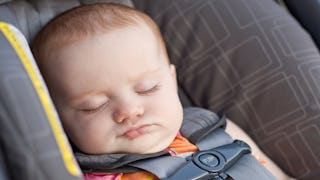 Image via Getty/emholk
A recent study found 47 car seat related deaths in children under two occurred over a four-year period
Who among us hasn't let our little ones continue snoozing in their car seat, even after the car ride is over? Especially infants, because it can be so hard to get them to catch a good nap. While this is something pretty much every single parent can affirm, it's time to cut out the car seat nap. For good.
One mom's heartbreaking story will make you rethink the car seat nap forever.
[Trigger warning: child loss.]
While plenty of experts agree that car seat naps aren't safe — because babies must be on a flat, solid surface when they're sleeping, this mom's story is a serious wake-up call.
Three years ago, Lisa Smith received a call from her childcare provider and experienced every parent's worst fear: her one-year-old daughter, Mia, wasn't waking up from her nap. She rushed to the hospital, where she was told her daughter died of positional asphyxia after taking a nap in her car seat. Mia must have slumped down in her seat and continued sleeping in a position that restricted her airway.
"I got a call while I was at work," Smith says. "Worst call I've ever had in my life. 'Drop everything. Mia didn't wake up from her nap.'" While she says she and her husband were aware of the dangers of sleeping in car seats and didn't allow Mia to sleep in hers in their home, her childcare provider was not.
Three years later, and Smith says she's determined to spread the word about kids falling asleep in car seats to warn other parents — and prevent them from suffering her same heartbreaking, unimaginable fate.
"There's nothing about the car seat that's designed to sleep," Sharon Evans, a trauma injury prevention coordinator at Cook Children's Hospital, tells WFAA News. "Of course, if the straps aren't tight, the child can kind of slump down." Evans says many parents are under the impression that car seats can be used to let little ones sleep in outside of the car. The main problem with this is the straps as well as the position of the child's head — babies especially can have issues with head support and maintaining the proper position.
A Journal of Pediatrics study in 2015 found 47 deaths in children two years and under as a result of car seats — while used outside of a car — over a four-year period. According to a safe sleep brochure circulated by New York City Administration for Children's Services (ACS), a car seat, carrier, swing, or any type of bouncer should never be used as a designated sleeping spot, especially if the child is under 12 months old.
"Because babies don't lie flat in car seats, they can suffocate when their heads (which are very heavy compared to the rest of their bodies), tip forward, blocking their airway," the ACS explains. "These products are not made for babies to sleep in and are dangerous because babies are not sleeping flat on their backs."
Smith says she believes a lot of parents are unaware of the dangers. "I walk around town and see people using a car seat on the seats at restaurants or putting them on the floor at tables," she said. "I literally walk up to people and I say, 'You know, I had a daughter who was seventeen-and-a-half months who passed away and I just want you to be really careful.'"
This isn't a mom who's being alarmist or passing judgment on other parents. This is a mother who has lived through the worst possible thing any parent could ever be forced to endure — but she's looking out for other parents because once you're a mother, you're a mother always.
"She was our first born, our only child, and she didn't deserve what happened to her. But other families don't deserve this to happen to them either." she added.
This article was originally published on