A Mom Built This Entire House From Scratch Watching YouTube Tutorials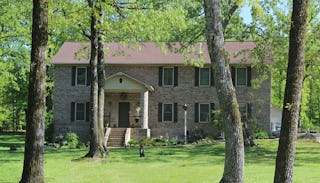 This courageous mother built a safe space for kids after fleeing abusive marriage
You know all those well intentioned Pinterest-inspired cupcakes you attempt for your kid's birthday party? The ones that are supposed to be shaped like penguins made from Oreos and M&M's but they end up looking like a crazed orca whale who just shit his pants instead? Imagine how bad you will feel about yourself when you hear Cara Brookins' story.
This amazing woman built a five bedroom house from the ground up by watching YouTube tutorials (shakes head over unfinished middle school Home Ec tote bag).
Cara and her kids Roman, Jada, Hope, and Drew, who built their dream home in Bryant, Arkansas, did so to escape an abusive relationship. After two failed, violence filled marriages, "my kids and I needed something," she told Buzzfeed. "I felt ashamed and I was worried that they had no self-esteem and no confidence."
That is when Cara decided to take matters into her own hands and do something that would change their lives forever. In 2007, she and her kids were driving past a house that had been hit by a tornado, the foundation the only thing left standing. Using a bank loan, she invested $150,000 in materials and their family went to work. Brookins, a senior computer analyst and author with zero construction experience, looked to YouTube and her local hardware store for expertise to build every square inch of the house from concrete flooring, framing, cabinet making, staining and plumbing.
According to her website, "Building our own house wasn't something we were proud of at the time. We kept it largely secret even from my coworkers and the kids' friends. The shame surrounding domestic violence takes a lot of work to sweat away. Little by little, we found our strength and our family bonds," Cara said.
Now complete, Inkwell Manor, named aptly as a place where Cara saw herself writing someday, is a gorgeous and safe space she and her family have been residing for the past eight years. On the impact this experience has given her kids, Cara tells Buzzfeed, "They're now fearless. They dive into anything. There's nothing you could suggest to them that they could not do. it's an incredible thing."
We would argue having Cara as their role model to show what real strength and courage looks like is all they ever needed.
Cara has also fulfilled her dream of writing. Her new book Rise, comes out January 24, which recounts in detail the family's struggles and what it took for her to overcome their situation, and come out stronger, on the other side. For Brookins, the words she has chosen to live by are these:
"Set an impossible goal and with enough determination, you can do it."
This article was originally published on