Stop Everything And Watch This Video Of Cardi B Performing At A Senior Center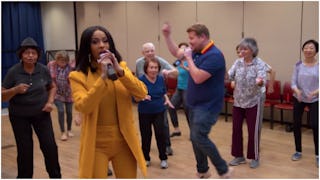 Image via YouTube
Allow this video of Cardi B performing at a senior citizen center to sooth your weary soul
It's freezing and dreary outside, so our unsolicited advice is that you hunker down somewhere quiet and allow this truly delightful video of Cardi B to heal your wintry heart. The rapper joined James Corden for a Carpool Karaoke segment and the two ended up at a senior center where they danced, sang, and flirted (you'll see). Prepare to beam…a lot.
The duo got into Corden's car, hit the road, and rapped some of Cardi B's hits as they cruised along. Cardi is also a hilariously terrible driver and the entire segment is just comedy gold. So, that was really fun in and of itself and it should be noted that Corden continues to impressively hold his own during these segments (if I was karaoke-ing with Grammy-winning artists I would be nervously humming while sweating profusely).
Then, the talk show posed a very important question. "What's the oldest audience you think you've ever played to?" he asked. "I don't think I have," Cardi B responded. Corden wasn't having any of that. He drove the rapper straight to a local senior citizen center so she could perform for a very different demographic.
They interrupted a dance class and took to the stage. "I'm so sorry to hijack your class, but we wanted to come, we thought we wanted to try and mix things up a bit," Corden said. "Cardi B, biggest-selling female artist in the world."
People seemed…politely baffled. One guy took a phone call and left the room. Suffice to say that Cardi B had her work ahead of her. She worked the room, rapping "I Like It" alongside James Corden and her audience was loving it. They danced along and the whole thing turned into a big, joyous dance party.
Cardi B even made a new friend…who maybe actually wanted to be more than friends.
Don't worry, Corden wasn't feeling too left out. He also got some action from a flirty fan.
The whole thing was a massive success. Cardi B turned the room into a gyrating, grooving party – and probably picked up a few more fans while she was at it (especially Gunter, the dude who boldly asked her out above).
The moral of this story is that we should all be so lucky to get our dance on with Cardi B and a group of seniors. Officially putting that on my Christmas wish list.