There's An Adults-Only Cardi B Cruise Happening This Summer -- Yes Please
by Cassandra Stone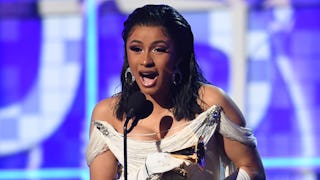 Image via ROBYN BECK/AFP/Getty Images
Alright, who's ready to book a girls' trip?
If it's your secret dream to party with Cardi B, well, for one thing — you're not the only one. But this summer you can actually make that dream a reality because she's going to be on board an adults-only cruise. There's never been a better time to plan that much-needed mom getaway with your girlfriends, tbh.
The "Days of Summer Cruise" sets sail on June 28th from Miami, Florida, and it's four days and three nights of non-stop entertainment. It's a hip-hop cruise, so Cardi isn't the only headliner. You can also get down to performances by DJ Khaled and Post Malone. And honestly, if you're not a fan of either of those guys — knowing Cardi B is on board is enough to buy that ticket.
https://www.instagram.com/p/Buwo-nGlMOz/
The cruise heads to Half Moon Cay in Nassau, Bahamas from Miami. The ship, the Carnival Victory, boasts a world-class spa, 24-hour dining options, six bars (including a tequila bar — yes please) and a station where you can pour your own beer. There's also an on-board winery (!!!) and martini-tasting.
Pricing starts at $1062.50 per person and the ship offers everything from double occupancy cabins to quad occupancy — of course it's cheaper if you all pile into one room, so it's basically like this cruise is made for those of us who want to reclaim our youthful exuberance and jam out with our girlfriends.
If you're looking for a different kind of cruise, there's still plenty of time to book your passage on the Golden Girls Cruise in 2020.
Sponsored by Flip Phone Events, the Golden Girls Fan Cruise is a five-night high seas adventure departing from Miami, Florida (ahem, as any good fan knows, is home of the Golden Girls) and visiting Key West and Cozumel.
A cabin on this particular cruise will cost about $1,000 per person. Which is more than a bargain when you factor in all the fun you're going to be having. The cruise's programming is chock full of activities specific to celebrating the Golden Girls.
The Cardi B Cruise (which, let's be honest, is the official unofficial name for it), it's adults-only — so you likely won't be getting a glimpse of her baby, Kulture. And you've gotta leave your own kids behind (yes, yes, so sad) because they're just not allowed to party with Cardi and the rest. All guests must be 18 years old to board, and anyone between 18 and 21 years old has to come with a guardian or relative who is over the age of 25.
Which is…not a problem at all for any of us, amiright? To book your cabin, go right here and get started.