Cardi B Releases Doll That Not Only Looks Like Her, It's Exclusive AF
by Kristine Cannon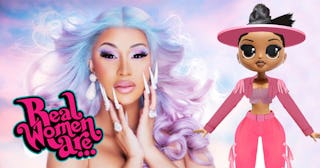 RealWomenAre.Com
It's so exclusive, you have just 72 hours to get on the waitlist
In time for Women's History Month, Cardi B has announced the launch of her very own limited edition fashion doll that looks just like her. Teaming up with newly launched diverse, inclusive doll brand, Real Women Are, the doll is so exclusive, you have just 72 hours to get your name on the waitlist, guaranteeing purchase of the doll based on the multi-platinum recording artist in July.
The Cardi B doll, which costs $35, is slated for limited edition release, starting today; and the exclusive waitlist will only be accepting orders for 72 hours. Additional wardrobe and accessories will be sold separately, and dolls will begin shipping in July.
"As everyone knows, I'm a mom. And today, more than ever, it's important to me to give my daughter inspiration and badass women to look up to," Cardi B said in a press release.
And Cardi B's daughter, Culture, has one badass mom to look up to. Cardi B not only provided the inspiration behind the doll, but she also led creative direction and was an integral part of the production process.
"Working with Real Women Are is a chance for me to provide my daughter and other little girls something that looks like them to play with to inspire them," Cardi B said. "We're in the White House now, but we're still so far behind in other places. Representation matters."
Real Women Are is the first minority-women owned and led doll brand targeting women and girls of all ethnicities backed by the National Entertainment Collectibles Association (NECA). All of their dolls are intended to "celebrate powerful women and champion authenticity," and all future dolls will represent "various colors, shapes, sizes, and abilities."
"What makes Real Women Are special is that young girls of color are a priority to the doll brand," Cardi B said. "We want them to know that they are special. That they are worthy of having a toy that looks like them. We're not building Real Women Are as an afterthought or something just to check off a box. Creating a doll that is a mirror of our daughters, nieces and granddaughters is at our very core."
Cardi B's also selling two limited-edition Cardi B dolls with gold-plated doll accessories. It also comes with a personalized item from Cardi. But be quick to pre-order, because only 1,000 units are available.
"It's important to see dolls that look like them because growing up, I ain't never seen a doll that looked like me, I've never seen a doll that really represents me," Cardi told Today. "When you go to the doll aisle when you was my age, it's either like there's a real white one, there's a real dark one, and there's like barely one that's like in the middle.
"None of them have my style, none of them have my flavor, and it's like I want a doll that represents me."
To reserve a doll for purchase, simply input your email address at the Real Women Are website.