Cardi B Finally Shares A Photo Of Her Lookalike Baby Girl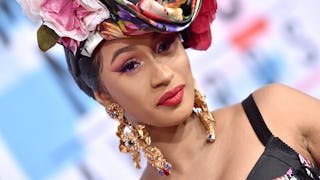 Image via Axelle/Bauer-Griffin/FilmMagic
Cardi B shared the first public photo of her baby girl and she's too precious
Yes, we know, it's never terribly shocking when a child resembles their birth parents, but bear with us here. What you're about to see is a teeny, weeny version of Cardi B — because her baby girl is basically her clone.
So far, Cardi B has kept baby daughter Kulture, born this past summer, under wraps on her popular Instagram account. Which, more power to her — it's completely understandable to want to protect her little one's privacy. But now that she's finally revealed her baby girl? OMG, please keep the photos coming.
Look. At. Her.
If you're done having kids, you might want to take a moment to remind yourself of that fact, because this image is an ovary-exploder. Not only is little Kulture her mommy's twin, she's just ridiculously beautiful. It was definitely worth the wait to see her perfect baby face. Up until this adorable photo, all we had seen of the infant was her sweet little hands.
The internet pretty much lost it over Kulture's big reveal too. She's just that mind-bogglingly cute.
Oh, and Cardi had another huge announcement this week — she and husband Offset are no longer together.
In an Instagram video, she explained to fans that things just weren't working out for the pair and that although she'll always love him, they're probably going to explore divorce soon.
https://www.instagram.com/p/Bq_pb64Fzl8/
Cardi has always kept it extremely real and candid with her fans, and this week's announcements are no different. She told the world exactly how she felt in those first tough weeks of motherhood.
And admitted that it's been tough to "snap back" after giving birth.
https://www.instagram.com/p/Bl4S70CncEp/?utm_source=ig_embed
She also shared that having Kulture "broke" her vagina, which, relatable.
Hopefully, this photo is the start of the world getting to see Cardi's gorgeous mini-me gracing her Instagram page more often — even though it might be a little hard on our ovaries, we can take it.