Cardi B's Grammy Acceptance Speech About Her Daughter Was Too Cute
by Christina Marfice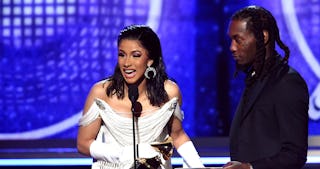 Image via Kevin Winter/Getty Images for The Recording Academy
All Cardi B could think about after making Grammys history was her daughter
With her absolutely meteoric rise to success, it's hard to believe that in addition to being a chart-topping rapper and now Grammy winner, Cardi B is also mom to seven-month-old daughter Kulture. When Cardi made history at last night's Grammy Awards by being the first woman ever to win Best Rap Album, she made a very sweet speech that proved her baby girl is first on her mind no matter how successful she gets in her career.
Cardi B received an insane amount of applause when she was announced as the winner for the category, both because she's the first solo woman to win it, and because she absolutely deserved the award. Oh and also? She looked amazing, but duh. That dress. Those gloves. Hello, Halloween costume in 2019 and forever.
When she got to the stage, hand-in-hand with her husband, Offset, at first all she could do was fight back tears.
"Oh my god, babe," she said before even beginning her speech. "Babe, I can't breathe."
She then thanked a number of people who helped with her winning album, Invasion of Privacy, before turning her speech to her infant daughter, Kulture, who she calls KK.
"I'm not just saying thank you because she's my daughter — it's because you know when I found out I was pregnant, my album was not complete," Cardi said. "I had like three songs that I was for sure having [on the album] and then, you know, you know how it was. Like, we have to get this album done so I can shoot these videos while I'm still not showing."
She then turned her gratitude to Offset. "You, husband, thank you. Nah, seriously, 'cause he was like, you're going to do this album, girl. We're gonna have this baby, and we're gonna make this album. And thank you so much, everybody."
While the crowd laughed at her adorable remarks, she tried to thank all the artists who appeared on tracks on the album, but broke down in tears again. Offset held onto her hand the entire time, and excuse me, there's just something in my eye right now, BRB.
Cardi's win puts her right where she deserves to be, but on a shockingly short list of female rappers who have won Grammys.
It's also a huge winning moment for her as a mom. Her daughter has one of the strongest, most successful moms in the world, and you just know that girl is going to grow up to be an absolute force.
Cardi's path hasn't always been the easiest. She's been open about her battles with postpartum depression ever since KK was born.
"I thought I was going to avoid it," she told Harper's Bazaar earlier this month. "When I gave birth, the doctor told me about postpartum, and I was like, 'Well, I'm doing good right now, I don't think that's going to happen.' But out of nowhere, the world was heavy on my shoulders."
The fact that she's faced such an uphill battle and been so open about her postpartum, something that effects up to 80 percent of women after they give birth, just makes her win all the more inspiring. Cardi should definitely take some time to bask in this accomplishment, but knowing her, she'll be back to kicking ass in no time.