Cardi B Just Posted The Most Relatable Message About Early Motherhood
by Valerie Williams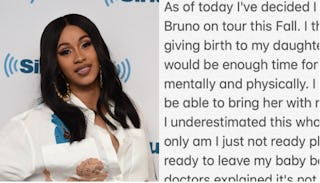 Image via Ilya S. Savenok/Contributor/Getty Images/Instagram/Cardi B
Cardi B announces that she's not ready to tour with Bruno Mars so soon after giving birth
First things first — if you're a mom and don't already follow Cardi B on all forms of social media, you need to rectify that immediately. Now that we have this important business squared away, let's discuss how her most recent Instagram post will be insta (see what I did there?) relatable to any mom.
Earlier this month, rapper and pregnant twerker extraordinaire Cardi B gave birth to her first child. Since then, her Instagram has been a non-stop delight of Real Mom hilarity, but last night, she got pretty serious about the realities of going back to work after having a baby.
The new mom shared that motherhood was a bit more extra than expected — and who else has been there? I know I assumed I'd continue conquering the world after my first child was born but instead, I tendered my resignation from my job and ended up staying at home for three years in relative poverty because I couldn't even begin to figure out how to go back to work after having a kid. For Cardi, it means no more touring with Bruno Mars.
"As of today, I've decided I won't be joining Bruno on tour this Fall," she writes. "I thought that after giving birth to my daughter that 6 weeks would be enough time for me to recover mentally and physically."
"I also thought that I'd be able to bring her with me on tour, but I think I underestimated this whole mommy thing," she says. Um, yes. All I did was be a bridesmaid in a wedding three weeks after my daughter was born and I spent a good hour sobbing in a bathroom stall during the reception because I just wasn't ready for all that peopling so shortly after giving birth. In short, I completely get where she's at right now.
Bruno had his own super supportive message for the singer in response to her announcement.
https://www.instagram.com/p/Blt10TcAzbz/?utm_source=ig_embed&utm_campaign=embed_loading_state_control
"Most important thing is you and your family's health. I know the fans will understand. You are absolutely doing the right thing," he writes. Ugh, too sweet.
Also? Check out just one example of Cardi B's post-baby hilarity. She speaks through a doll and refuses to appear on camera because in her words, "a bitch look fucked up." She goes on to explain (through the doll, of course) that her hair's "fucked up" and her eyes are "dark and puffy." Welcome to motherhood, sis.
https://www.instagram.com/p/BlV8dpUlO3s/?taken-by=iamcardib
Honestly, she had me at "yandice."
She really just gets us, y'all.
https://www.instagram.com/p/BldzHY_hlgi/?taken-by=iamcardib
Keep on doing you, Cardi. Us moms all completely know where you're coming from.