Cardi B Flaunts Her Nude Bangin' Postpartum Bod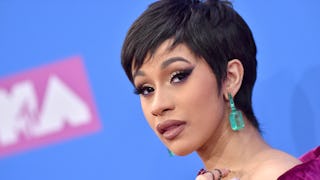 Image via Axelle/Bauer-Griffin/FilmMagic
Cardi B poses nude on husband Offset's Instagram just six weeks after having her baby
The first weeks after having a baby aren't usually when most new moms are feeling themselves, but Cardi B is not most new moms.
The rapper's husband, Offset, took to Instagram recently with a nude photo of his insanely hot wife — only six weeks after giving birth.
"WIFEY GODDESS BEAUTY," he captioned the pic. And honestly, need he say more? Look. At. Her.
Cardi is turned to the side, showing off her enviable ass and enviable everything. She just had a baby, y'all — I'm downright inspired. After my kids were born, the first six weeks were basically spent in tears (and in my maternity jeans) just hoping I'd stop leaking breast milk and bleeding into a phonebook-sized pad soon.
I'm in literal awe of Cardi.
The photo is especially cool to see if you've been following her on Instagram in the weeks since she had baby girl Kulture. She's been extremely open about the struggles of new motherhood, sharing her insecurities about her appearance and suggesting that she's dealing with some postpartum depression too. She even took to Instagram for a few days using dolls to "talk" to her fans because she didn't want to be on camera.
She told her followers that she wasn't in front of the lens because after her daughter's birth just days earlier, "a bitch look fucked up in the game…my hair's fucked up, my eyes are so dark and puffy." To be honest, the post made me die laughing but also, I could feel her pain since I've totally been there.
Which is why I'm so happy for her that she's moving on from those thoughts and into remembering how completely beautiful she is — postpartum or not.
I know for a fact that some will hate on her for posing nude as a mom (just like hot celeb moms before her who've dared to embrace their sexuality after having a child) but I can't understand it. She's a mother, but she's still herself. It's so important to retain who you were before having a baby. There's no reason Cardi needs to toss out her sexuality along with the placenta, and we can all learn something from her confidence.