Cardi B Says Postpartum Depression Hit Her 'Out Of Nowhere' In New Interview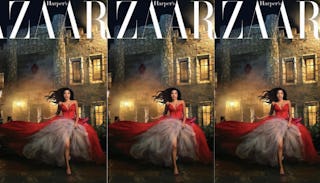 Image via Instagram/Harper's Bazaar
Cardi B may seem larger than life, but she keeps it real when it comes to motherhood
Between churning out hit after hit, being an amazing mom to daughter Kulture, posing for fierce AF magazine covers, and brilliantly roasting Tomi Lahren on Twitter — there is nothing Cardi B can't do. Now she's shedding light on an important issue moms everywhere can relate to: postpartum depression.
In an interview with Harper's Bazaar, she opens up about the wild ride of her life and career so far, including the birth of her daughter, Kulture (who she calls 'KK'), last summer. She tells the magazine that, like many of us, she couldn't imagine being hit with postpartum depression.
"I thought I was going to avoid it," she says. "When I gave birth, the doctor told me about postpartum, and I was like, 'Well, I'm doing good right now, I don't think that's going to happen.' But out of nowhere, the world was heavy on my shoulders."
A month after giving birth to her daughter, Cardi says she was trying to think of how she could return to work without sacrificing her time with her baby. She ended up not touring with Bruno Mars as intended because that's what was best for her family at the time. Basically, it doesn't matter what your career is — trying to balance work as a new mother can feel downright impossible, and sometimes it just is.
Though Kulture seven months old now, Cardi says she still doesn't feel like the person she was before becomign a mom, physically speaking. "I feel like I don't have my balance right yet," she says.
"When it comes to heels, I'm not as good at walking anymore. I feel like I'm holding a weight on me. I don't know why because I'm skinnier than I've ever been. But there's an energy I haven't gotten back yet that I had before I was pregnant. It's just the weirdest thing."
This is extremely relatable, personally speaking, because I remember even after dropping the baby weight (thanks to my own battle with postpartum depression and anxiety, and a major blood sugar crash I experienced due to my own insulin issues), I felt…off. For a long, long time. I knew I was technically "healed" from the experience of childbirth, but I was not myself.
Depression often manifests itself in physical ways, and it's almost sadly poetic that it could affect our equilibrium — both literally and metaphorically.
Throughout her interview, Cardi talks about how her social media presence has changed since becoming a mom. "Sometimes I'll see something online and it'll piss me off, and then my baby will start crying or something, and it's like, 'You know what? I've got to deal with the milk. Forget this.'"
[Though it's completely understandable for any celebrity to pull back from sharing things online, I for one am eternally grateful for The Great Dog-Walking Setdown Of 2019 where she put Tami Lasagna in her place in the most satisfyingly savage way possible.]
She's also notoriously private when it comes to sharing images of her baby online or with the public in general. She says she and Kulture's dad, rapper Offset, have received threats regarding their family. She eventually posted a photo on Instagram because she says she wants to be able to do normal things and go on regular outings with her child.
"We have to hide her all the time," she says. "I can't go to L.A. or Miami and walk down the beach with my baby. I want to go shopping with my baby. I want to take a stroll with my baby. Sometimes I feel bad for her because all she knows is the house."
While a vast majority of us are not, in fact, hugely famous figures in popular culture that have to worry about paparazzi or threats, many of us can relate to that trapped feeling. Cardi B might seem larger than life (especially in her visually stunning cover series here), but she's still one of us.
This article was originally published on