Cardi B Reveals She's Pregnant With Her Second Child!
by Valerie Williams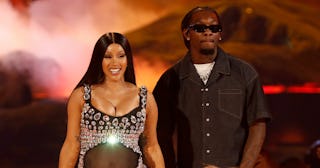 Johnny Nunez/Getty Images for BET
Cardi B made the surprise announcement by appearing at the BET Awards with her bump on full display
If you've been thinking that Cardi B has been laying low for the last few months, you're not wrong. And now, we just learned the reason for the singer's absence from the public eye: She's been cooking up another bun in the oven! Cardi just revealed she's pregnant with her second baby with a surprise appearance at the BET Awards and a coordinated Instagram post.
In her Instagram post, she posed facing to the side, with either plaster or white paint covering her front — including that very cute (and bigger-than-we-expected) baby bump. This is clearly a secret she's been keeping for a hot minute.
In the caption, Cardi wrote, "#2!" alongside a heart emoji, and tagged her husband, Migos singer Offset, with whom she already shares 3-year-old daughter Kulture.
The Instagram post went up at just about the exact time that Cardi was appearing at last night's BET Awards, where she arrived for her performance ready to also reveal her big secret to the world. As she entered the stage, she wore a sheer outfit with a strategically placed cut-out — right over her adorable baby bump. There was no mistaking that she meant the show to be another big announcement.
Coordinating a live TV performance with that Instagram post? Did Cardi B just win the all-time award for best pregnancy announcement ever? Honestly, if that award existed, we'd be nominating the hell out of her for it.
This will be Cardi's second baby with Offset. The two welcomed their daughter, Kulture, in 2018, and she's been a steady (ridiculously cute) presence on Cardi's social media ever since. The singer has actually faced a lot of mom shaming for the way she lavishly spends on belongings and parties for her daughter, but can you really fault her for wanting to give her sweet baby the world — and actually having the means to do it?
Now, with another baby on the way, we're pretty excited to see this cute family continue to grow. I've got a feeling Kulture will be a natural at being a big sister, and it's clear that Cardi and Offset are two very proud and loving parents. Congratulations to these three on growing their little family!