Pregnant Cardi B Twerked At Coachella And We're In Total Awe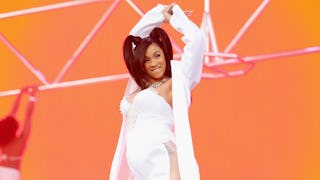 Image via Natt Lim/Getty Images for Coachella
Cardi B brought down the house at Coachella with her flawless rapping and pregnant twerking
As a mom who could barely do a flight of stairs while pregnant, I'm in awe of this weekend's footage of Cardi B twerking at Coachella in all her pregnant glory. I can remember sobbing to my husband that rolling over in bed was too hard for me and she's just out there killing it. The rapper is proving that becoming a mom doesn't have to mean abandoning your pre-kid self, and also, that she's in hella good shape.
Ladies and moms, 25-year-old Cardi B, expecting her first child later this year, came to Coachella last night and represented the shit out of pregnant women everywhere. At one point, she got very real with the crowd saying, "I'm running out of breath, you know my pregnant ass," but she never faltered. We honestly couldn't be more proud.
Like, sure. I could've done the movements while pregnant at age 25, but there's a more than solid chance the whole performance would've ended in a pee puddle onstage and me mildly hyperventilating. This woman is a living legend.
Look. At. Her.
Cardi B is about to be a mom and indeed, she's twerking with strippers like a god damn boss. While I'm about to purchase my first minivan, (hold me) this momma is out there shaking her ass in perfect step. I'm downright inspired, a tad jealous, and itching to learn to twerk, if only to horrify my tweenage kids.
Let's also talk about how if I got down like this, pregnant or not, I'd probably just have to live there forever.
Look at her owning this sexy white romper with the sides cut out while sporting an adorable baby bump and rapping. I couldn't reliably wear white now without staining it let alone when I was constantly eating and halfway wetting my pregnant pants on a daily basis. All hail Cardi B, Queen of the Pregnants.
Twitter was also extremely here for her performance.
But honestly, she had to have run out of energy at some point.
But probably not, and good on her. We can only hope to be half as amazing, pregnant or not.
This article was originally published on