Cardi B Conducts Entire Interview While Caring For Her Baby Because, Moms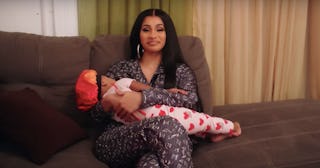 YouTube
Cardi B answers questions about motherhood, her style icons, and her career plans — all while taking care of little Kulture
We love Cardi B — full stop. The newish mom has quickly made clear that she keeps it super real when it comes to the realities of parenting (remember her amazing Instagram posts in the weeks after giving birth to now 17-month-old Kulture?) while still reminding us that we were sexy before having kids — and we can still be that way after. Recently, she conducted a 73-question Vogue interview that touched on motherhood, her career, and her hopes and dreams for her little girl.
The interview was held in Cardi's grandmother's home in the Bronx and she says she loves being there because, "It's always packed with family." She tells the interviewer that it's a distraction from her chaotic life as a celeb and it makes her feel nostalgic. All the while, she's expertly maneuvering toward the couch with a sleeping Kulture in her arms because moms are rockstars, end of story.
Real quick pause to remember that Kulture is the cutest ever and we can't get enough of her on Cardi's Insta.
Like, stop it. She's perfect.
Cardi shares that Kulture's latest word is "open" which she apparently repeats constantly. "She wants me to open everything," the mom says with an amused grin. The interviewer asks the biggest lesson she's learned so far from her daughter and without missing a beat, gives the answer pretty much every mom would: "You're never ready on time. Things don't go as you plan. Never."
LOL, yup.
Cardi says the biggest lesson she wants to teach Kulture is, "Don't worry what people say and to dream big and follow it." If anyone can teach a master class in all of that, it's Cardi, so she can probably check that parenting goal off her list in advance.
She was asked about her wishes for her child. "I wish for her to be a successful business woman," Cardi says. "Independent woman. Confident woman." So, once again, just like her mom?
When asked what she thinks is the most misunderstood part of being a mom she immediately answers, "It's hard. People think that it's easy but… it's hard. We deserve more Mother's Days."
PREACH.
When it comes to what motivates her in her career, the answer is all about her daughter. "In order for me to spoil my child for the rest of my life, I have to have money and make money for the rest of my life." And as far as what she's learned from being married to husband Offset? "I always feel like I know everything, and he taught me that I don't."
Well, Cardi certainly knows a few things about how to kick ass at her career while also being a kick-ass mom. And we love her for it.
This article was originally published on