Cards Against Humanity Buys Land On Mexican Border To Help Stop Trump's Wall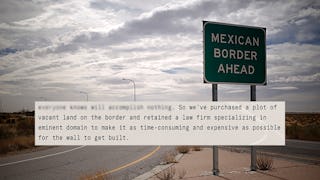 Image via Luke Sharrett/Bloomberg
Cards Against Humanity has a 6-step plan to save America
The very adult game Cards Against Humanity is known for being crass and delightfully obscene. They're also known for their yearly holiday stunt where they ask fans for money in exchange for literally nothing, or something totally absurd.
This year's offering is another thing altogether. They're trying to stop Donald Trump's border wall. And they need our help.
The Chicago-based game company is calling their holiday initiative Cards Against Humanity Saves America, and for the very reasonable price of $15, any American is welcome to join the charge. In exchange, donors will be sent six "America-saving surprises" throughout the month of December. The money they pay will be used to fund the purchase of acres of vacant land on the U.S. and Mexico border that will stop Trump from being able to complete his wall — and the lawyers needed to tie up the dispute over it in court.
They even made a nifty promo video explaining their plan, envisioned from the future America they've saved.
"It's 2017, and the government is being run by a toilet. We have no choice: Cards Against Humanity is going to save America."
That's right. Their plan involves stopping up the process of building the stupid wall by tying up the government in a legal battle to retain rights to the land they would need to complete it.
On their website, they explain their motivation: "Donald Trump is a preposterous golem who is afraid of Mexicans. He is so afraid that he wants to build a twenty-billion dollar wall that everyone knows will accomplish nothing. So we've purchased a plot of vacant land on the border and retained a law firm specializing in eminent domain to make it as time-consuming and expensive as possible for the wall to get built."
So that's pretty genius. And for just $15, any old citizen can be part of this historic fight against "Injustice, lies, racism, the whole enchilada," as CAH puts it.
While they won't reveal all six surprises yet, (um…because then it wouldn't be a surprise) they do tease that the Day 1 gift will be, "an illustrated map of the land, a certificate of our promise to fight the wall, some new cards, and a few other surprises."
Sounds worth the price of admission already.
The company anticipated that by tackling such a hot-button political issue, they'd end up with some questions. The FAQ section addresses the idea that the card makers are possibly "getting political" and should maybe "stick to card games." Their response is classic CAH.
"Why don't you stick to seeing how many Hot Wheels cars you can fit up your asshole?"
Is there an Advent calendar for that?
While the other prizes remain secret, they do promise the mailings will include "no sexual content, graphic violence, or footage of Donald Trump watching Russian prostitutes urinate on a bed Obama slept in."
But if they have that footage, I'm going to beg Santa that they forward it to Robert Mueller stat, please.
In the FAQ section, they address the concern that they're maybe becoming "politically correct." Not exactly.
"We're just being regular correct."
Hell yes.
This article was originally published on