Cards Against Humanity Releases Free Download Of New 'Family' Edition
by Madison Vanderberg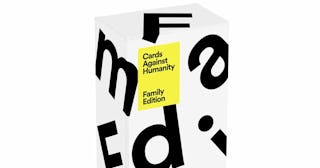 CardsAgainstHumanityFamilyEdition.com
Cards Against Humanity just released their "Family" edition online for free months ahead of their scheduled release date
As the national stay-at-home orders and quarantines continue for what feels like an eternity, families everywhere are running out of puzzles and shows to binge and bread to bake, which makes this next announcement arrive right on time. Cards Against Humanity has been low-key creating a "family-friendly" version of their infamous card game and was planning to drop it in the fall, but in light of the current situation, they've pushed up the debut and made it free to download online. If you have a printer, you can play Cards Against Humanity Family Edition as early as right now.
"Horrible friends: For over a year, we've been working on a Family Edition of Cards Against Humanity. It's just like Cards Against Humanity, except we rewrote the entire game from scratch and playtested it extensively with kids, so adults and children can have fun together. Today, we're releasing a free print & play version to play while you're stuck at home," the company shared on Facebook.
"Our plan was to surprise everyone with this in the fall, but we know a lot of families need something to do right now," the company wrote on their site. Technically, the game is the "beta version," but it's free, so who's complaining? The game is rated PG and the game makers described it as designed for "people ages 8 and up," but that they "encourage parents to look through these cards before you play with your family and remove anything you don't like, since different kids have different sensitivities." They also made it clear it's not just regular Cards Against Humanity but with all the dick jokes removed. "We rewrote the entire game from scratch and extensively play-tested it with children," they added online.
As for the game, all you need to start playing is an internet connection, printer, and scissors. When you access the online download, it will first ask if you "agree to stay at home unless absolutely necessary for the duration of the Coronavirus pandemic," at which point, you click, "I agree." If you don't agree, well, I don't know what to tell you but maybe google "coronavirus" or something instead of downloading card games?
Then they'll hit you with this prompt:
And then this one:
Once you click through all the prompts, they'll give you two options to download including a "low ink version" which is honestly brilliant, because who among us ever has a full ink cartridge?
For the low low price of staying the hell home, you can have a fun game to play with your family while bored to tears and who doesn't want that?