'Cards Against Humanity' For Parents? Yes, Please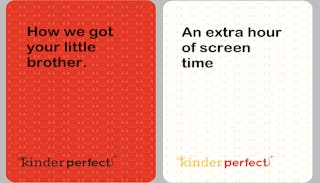 Image via KinderPerfect Facebook
'Cards Against Humanity' for parents was created by fans of the original game — and it's hilarious
If you're a fan of the party game Cards Against Humanity and also have children, we have great news for you. Fans of the original game have come up with a version of Cards Against Humanity for parents. Just think — you could have something (kinda) constructive to do while drinking wine with mom friends on a Friday night!
RELATED: 11 Baby Shower Games Your Guests Will Actually Want To Play
According to Huffington Post, parents Wayan and Amy Vota loved playing Cards Against Humanity (CAH) but wanted a game that reflected where they're at in life as the mom and dad of two young daughters. And so, KinderPerfect was born; a game designed just like CAH, except you can play a card that says "baby farts," which is pretty fantastic.
The couple tells Huffington Post that many of the cards were inspired by their little girls, Hanalei and Archer. Wayan says, "Like every parent, we love our kids, but they can drive us crazy. It's their antics, and those of other children, that inspired many of the cards."
Here are a few examples of the cards:
The cards are hilarious and relatable as hell, and that's by design — they were created using ideas from the Vota's crowd-sourcing among their community of parent friends. Wayan says, "Our aim is to take the everyday pain of parenthood and make it into an excuse for'mommy juice'!" Which, hello, we really don't need an excuse for anyway. He adds, "Parenting is tough. You don't get an instruction manual when you leave the hospital with your newborn, yet everyone you meet has an opinion of what you are doing wrong or should be doing differently."
RELATED: What Is Constructive Play, And How Do You Encourage It?
True dat.
Also, since we are more than just parents, a very cool aspect of this would-be game is that you can mix the cards with your existing CAH decks or with Apples to Apples, a similar game. My husband and I play CAH regularly with friends of ours, all of whom are fellow parents.
A parenting-themed chunk of cards would certainly be welcome among our crew to weave into the usual mix. As much as I love pulling the "tasteful sideboob" card, I can imagine exploding in giggles after receiving "A half-assed drawing taped to the refrigerator."
Parents can always use another reason to laugh and these cards would be the perfect excuse to pour a little (or a shitload) of wine and hang out with like-minded friends. Hopefully, the Vota's Kickstarter is a successful one so we can all add a new go-to baby shower gift this fall. And if not? We can just jack our kids' markers and construction paper and design our own.
You can buy the cards on Amazon.
This article was originally published on