Cards Against Humanity Offers Free Expansion Packs To Get People To Vote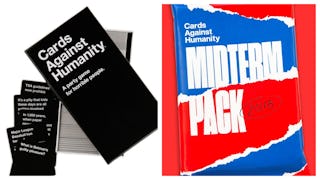 Image via Anne Farrar/The Washington Post via Getty Images/CardsAgainstHumanity.com
Cards Against Humanity is here to potentially save humanity during this year's midterm elections
The creators of Cards Against Humanity, the popular party game "for horrible people," are offering a new expansion pack focused on the midterm elections in an effort to turn red districts blue in key races.
"We've decided to get into the election-hacking game," the company writes on Facebook. "It seems easy enough."
The promotion, called Cards Against Humanity Hacks the Election, is designed to unseat incumbent Republicans in si Congressional districts on the cusp of turning blue: Iowa's 1st (Rod Blum); Illinois' 6th (Peter Roskam) and 14th (Randy Hultgren); Kansas' 4th (Ron Estes); Texas' 26th (Michael Burgess); and California's 25th (Steve Knight).
Voters in those districts are eligible to receive a care package including free cards, a message urging them to vote, and information about their local election. If you refer a friend who lives in the targeted district, you'll also receive a free expansion pack. They announced the promotion with a hilarious "campaign" video that is almost too close to reality for comfort.
"This kind of social voter-contact organizing is proven to work," Cards Against Humanity co-creator Max Temkin says. "We consulted with experienced organizers from OFA (Organizing for Action), Run for Something and VoteWithMe to apply all of the best practices for increasing turnout in these critical districts."
If you've ever played Cards Against Humanity (and if you haven't, boy, you sound like a real snooze), you know it's clever, vulgar, hilarious, and one hell of a good time. This new expansion pack is no different — it's just focused solely on contemporary American politics. New phrase gems include, but are not limited to, the following barbs:
"Fucking over future generations."
"A law that allows factories to dump toxic waste into children's mouths."
"Crowdfunding my daughter's bone marrow transplant."
"Rising to power on a wave of ethnic nationalism."
It's probably pretty clear that the company as a whole has some left-leaning political ideals. And they're definitely no stranger to in-your-face, genius marketing tactics. Last year, they bought up a huge chunk of real estate along the U.S.-Mexico border to ensure Donald Trump's plan to build a wall wouldn't come to fruition.
Anyone can buy (or win) the pack at CardsAgainstHumanityHackstheElection.com. They've set aside 50,000 packs to be sent for free to voters in the six target districts.
"Donald Trump won Wisconsin by 22,177 votes and Michigan by 10,704 votes," Cards Against Humanity community manager Jenn Bane says. "We think these 50,000 personal voter contacts have the potential to really move the needle on these six congressional races."
In order to narrow down the districts for this particular promotion, Cards Against Humanity studied dozens of Congressional races around the country. "We tried to find districts with young exciting Democrats running against truly awful retrograde Republican ghouls," Temkin says.
"Retrograde Republican ghouls." Ah, no one does descriptive phrasing quite like Cards Against Humanity. While humor is for sure at play here, they're serious about their intentions. Too much is at stake with the midterm elections this year.
Now go and nominate a registered voter and get a free Midterm Pack at CardsAgainstHumanityHacksTheElection.com.
This article was originally published on