Carey Hart Shares Photo Of His 'Punk Rock' Daughter's Fierce New Haircut
by Valerie Williams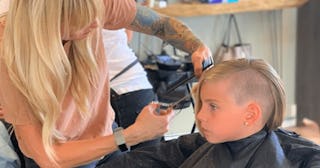 Instagram
Carey Hart is proud of his little girl's fierceness in a sweet Instagram post showcasing her new hair
It's pretty much decided that Pink and husband Carey Hart are the coolest celebrity parents out there. They take their kids on tour, let them backstage, show them the world, and allow them to truly explore who they are without judgment. That last part is on full display in Hart's recent Instagram post celebrating their daughter's ridiculously cool new haircut.
Willow is eight years old and like most eight-year-olds, obviously has strong opinions about her own style. While plenty of parents would balk at a more extreme hairstyle, Pink and her motocross racer husband are obviously not ones to shy away from a funky 'do. "Loving my punk rock daughter. Remember everyone, fly your own flag. There is no box to be put in. Its better to be your own self. Own it, and love it. And if anyone has a problem with it, tell them (politely) to move on," he writes.
Oh heck yes. She looks amazing and badass and cooler at age eight than I ever have in my life.
Hart signed off by, well, tugging our heart strings. "Cant wait to see the woman you grow up to be. I have a feeling you are gonna be strong, fierce, companionate, and caring. I'm so proud of you, willow."
Well, we'll just go ahead and say what everyone's thinking — if she's even half as incredible as her rockstar momma, she will be a force to be reckoned with.
And of course, this isn't the first time Willow was allowed to do something very fun to her hair. After trolls came for Jessica Simpson for allowing her seven-year-old daughter to put funky colors in her hair, Pink and Carey let Willow dye hers blue in solidarity. "I heard people were bummed on Jessica Simpson for letting her seven year old get her hair colored. So we thought we'd share what we did yesterday," Pink wrote.
And did we mention how cool these two are as parents? They take their kids, including toddler son Jameson, on motorbikes like it's no thang.
They're also just plain sweet, totally devoted parents.
Aside from some adorable parenting gush, it seems Hart's in the mood to wax poetic about both of the ladies in his life. He took to the 'Gram over the weekend to wish Pink a happy 40th birthday, and his words were beyond sweet. "Welcome to 40 baby. I've celebrated 18 birthdays with you, and I can say it's amazing growing up with you. The person you have grown into is inspiring. You have become a successful business woman, superstar, dedicated mother, Philanthropist, supportive wife, wine maker, motorcycle mama, and amazing friend to all around you," he writes.
Basically, we would like to be invited to join the Pink/Carey Hart family immediately. Love, affirmation, and cool hairdos? Sign. Us. Up.
This article was originally published on