Pink's 8-Week-Old Son Goes To Work With Daddy And The Pics Are Adorable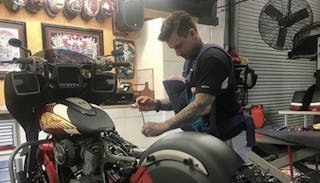 Image via Instagram
Carey Hart loves bringing his little boy to work
Pop star Pink and her husband are among our favorite celebrity parents. They keep things low-key, like announcing their second pregnancy only a month before the little guy came along, and show their love for five-year-old daughter Willow and new baby boy Jameson in the sweetest ways. Hart's latest Instagram post is no exception.
It's totally natural as a parent to want to introduce your kids to the things you enjoy. When you're a retired motocross racer, that thing is motorcycles, and excited dad Carey Hart wasted no time showing his eight-week-old son the ropes.
Ugh, melt us, why don't you. The caption reads, "Jamo putting in some shop time with pop yesterday 👍👍. My motorcycle lift doubles well as a changing table!! Thanks for the 📷 mama @pink." And there's sweet Jameson, chilling in daddy's shop, on top of the softest blue blankie we've ever seen.
This wasn't the first time Hart brought his little dude along to work, with the bike shop he co-owns posting this adorable shot on their Instagram a few weeks ago.
https://www.instagram.com/p/BQWjPJQgpJP/
Hart is wearing little Jameson in a baby carrier while he works on a bike, which is a precious father/son moment. He said before Pink gave birth that he was hoping for a son. "We got one princess, so hopefully we'll have a little guy coming. I don't want any competition for my daughter," he told People last year.
There's something truly amazing about showing your kids the things you love and involving them in pursuits you enjoyed long before becoming a parent. It's the perfect way to not lose your identity while also being a present parent — just bring the kiddos and maybe they'll fall in love with your hobby too.
Hart shows with his precious multitasking daddy photos that being a parent doesn't mean setting aside your interests. It just means having a little partner to bring along with you.