Carey Hart Wrote Pink A Sweet Love Letter And Our Hearts Are Bursting
by Leah Groth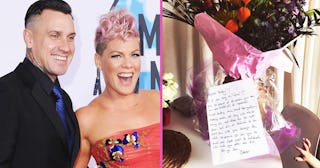 Jon Kopaloff/Getty and Pink/Instagram
It's official: Carey Hart is Pink's biggest fan and this sweet note to her proves it
Pink and husband Carey Hart are seriously one of our favorite celebrity couples. Not only are they totally real about their relationship, exhibiting total transparency about everything — including the fact that they have been in marriage counseling for 17 years — they aren't shy about sharing their incredible love and devotion toward each other on a regular basis. In fact, Hart is famous for honoring his wife on social media in the sweetest ways — the guy has got a way with words to say the least.
His latest gesture to his partner in crime and mother of their two children, Willow and Jamison, comes in the form of a legit love letter to honor the conclusion of the European leg of her "Beautiful Trauma" tour. Pink shared a photo of it — as well as the totally bonkers bouquet of flowers that come along with it — on Instagram. Get ready for those goosebumps.
https://www.instagram.com/p/B1ECFfiAa64/?utm_source=ig_embed
"Congrats, Baby!!!" Carey wrote. "All I can say is, 'Wow!!!' I'm so proud of the person you are. You have pulled off the impossible. Record-setting tour, chart-topping album, amazing mother, and loving wife. I'm so sorry I'm not there for the last show but I'm so fortunate to be shotgun with you through the whole experience. I love you so much, and can't wait to celebrate life with you after the tour."
Yep, Pink clearly picked a winner. (And she did technically pick him, as she was the one who proposed back in 2006.)
"Thank you babe," she captioned her Instagram post. "I told the audience about this last night and we all decided that Hell has officially frozen over."
Hart has nailed other notes to his wife in exactly the same manner, including this mother's day message.
"Happy mamas day to this amazing woman @pink. She is the most dedicated woman to her children, hands down," he wrote on Mother's Day. "She puts her children before anything, and while on this crazy world tour; the kids NEVER go without mama time. I don't know how you do it baby, but I'm proud of you. Happy Mother's Day to all the real mamas out there that put in 100% with their children. This day is for you."
Her 39th birthday message was equally on point — and pretty hilarious — as well.
https://www.instagram.com/p/BncCgG5jE6K/?utm_source=ig_embed
"Happy birthday to my amazing wife, Pink!!! We have been together almost 17 years, and it has been a true blessing to watch you grow from a crazy lil girl to a strong woman," he wrote. "Through all of our ups and downs you have always been a loving and consistent person. I'm so proud of the woman, mother, performer, and partner you have become. And like I've said before baby, you are like a fine wine!!!! You just get better with age. I love you, happy 40th." Get it? "happy 40th" when she was turning 39? Gotta love a couple who can have fun together.
Hart is obviously Pink's biggest fan, which is how it should be in marriage right? Keep up the cuteness, guys.
This article was originally published on