The Raiders' Carl Nassib Is Now The First Openly Gay Active Player In The NFL
by Christina Marfice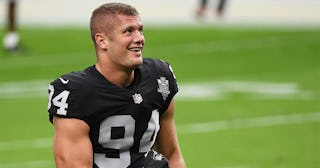 Ethan Miller/Getty
Carl Nassib made history by coming out while he's an active player in the NFL
We know that there have been gay players in the NFL — but only those who have come out after their careers ended and they were no longer active professional football players. There's been an openly gay coach — a woman, who coached in the Super Bowl, no less. But never before has there been an active player in the NFL who is openly gay — until now. The Raiders' Carl Nassib just came out, and by doing so, made NFL history.
Nassib, who has been playing professionally since 2016, made his announcement in a video posted to Instagram.
"I'm at my house here in West Chester, Pennsylvania. Just want to take a quick moment to say that I'm gay," he said. "I've been meaning to do this for a while now, but I finally feel comfortable enough to get it off my chest."
Nassib continued, "I'm a pretty private person, so I hope you guys know that I'm really not doing this for attention. I just think that representation and visibility are so important. I actually hope that one day videos like this and the whole coming-out process are just not necessary. But until then, I'm going to do my best and do my part to cultivate a culture that's accepting, that's compassionate."
The Raiders' defensive end went on to say that he plans to make a $100,000 donation to the Trevor Project to go with this Pride Month announcement. In a slide that accompanied his video, he wrote, "Sadly, I have agonized over this moment for the last 15 years. Only until recently, thanks to my family and friends, especially Connor, Cason, and Francis, did it seem possible for me to say publicly and proudly that I'm gay. I am also incredibly thankful for the NFL, my coaches, and fellow players for their support. I would not have been able to do this without them."
Nassib's team and coaches have already made their support known. The Raiders shared his announcement on Twitter, adding, "Proud of you, Carl" and a heart emoji.
The NFL also reshared Nassib's video and wrote, "The NFL family is proud of you, Carl."
"The NFL is proud of Carl for courageously sharing his truth today," NFL Commissioner Roger Goodell said in a statement. "Representation matters. We share his hope that someday soon statements like his will no longer be newsworthy as we march toward full equality for the LGBTQ+ community."