A Carmen Sandiego Netflix Series Is Here And It's A 90's Dream Come True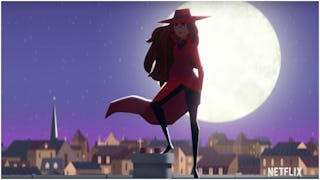 Image via Netflix/YouTube
Netflix released a new series about Carmen Sandiego and it's a 90's dream come true
Dust off your CDROMs, Gumshoes. A new show about Carmen Sandiego hit Netflix today, and you're about to feel so, so nostalgic. The series traces the origin story of the red-headed, red-coated icon, from her days as a spunky teen thief to her present-day mission to take down the crime organization V.I.L.E. THAT'S RIGHT, EVERYBODY. Carmen Sandiego was actually one of the good guys.
Are your ACME detective senses already tingling? There's more. Each episode includes "fast facts that'll turn any kid into a Jeopardy pro," according to the show's press release. So, yes, all these years later Carmen and her henchmen are continuing to give us a better geography education than we got in middle school (well, them and Oregon Trail).
Also, Netflix set up a website called thecarmeneffect.com, which offers an in-depth look into the lasting impact that Carmen Sandiego has had on the world. Personally, the lasting impact that Carmen had on my world is that I could never get past, like, the fourth level of the video game, and I'm still furious about that.
Sigh. That music. The dreamy aesthetics. All the adventure. We should all probably put on our best trench coats and go save some precious artwork from all those evil members of V.I.L.E.
Also, to add fierceness on top of fierceness, Netflix's Carmen Sandiego is being voiced by Gina Rodriguez. She posted a picture of herself dressed as the thief on Instagram and has anyone ever looked quite so cool? Investing in a bright red hat immediately.
Voicing the iconic animated character means a lot to Rodriguez, who played the video game as a child. "My parents are super into education, so learning about geography was great," she told Entertainment Weekly. "And then for her to be Latina — and voiced [on the series] by Rita Moreno, my queen — it made such an imprint on me."
Plus, she noted in Netflix's press release, she's excited to introduce a whole new generation of kids to Carmen.
"My sisters and I grew up playing Where In The World Is Carmen Sandiego? We didn't know who she was or why she was doing the things she did, but she was this smart, savvy Latina woman who was getting out in the world, seeing all kinds of places and exploring different cultures," Rodriguez said "…And now I'm lucky enough to extend the story of a character who still inspires me every day, introducing kids not just to her adventures, but also revealing new details about her past."
Welp, it's time for us all to head to ACME and start solving some cases. Carmen is waiting.
This article was originally published on