Florida Police Are Reopening The Case Of Carole Baskin's Missing Husband
by Christina Marfice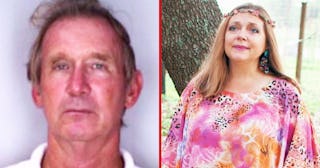 Sheriff Chad Chronister/Twitter and Netflix
What really happened to Carole Baskin's missing husband? Police hope to find out now that Tiger King has sparked interest in the case
For anyone who has watched Netflix's completely batshit true crime docuseries Tiger King, there's a big question we all want the answer to: What really happened to Carole Baskin's missing husband, Don Lewis? Joe Exotic has his theories, but is there actually truth to any of them? Well, police want to finally find out, and they hope we can all help.
Now that the entire world has become interested in the case, the Florida Sheriff's Department has reopened its investigation into Lewis' summer 1997 disappearance, hoping that someone who saw Tiger King might have the information that can help them finally solve the nearly 23-year-old mystery. Sheriff Chad Chronister made a public plea for new information on Twitter this week.
Lewis, who would now be 81 years old, was last seen in August of 1997. He was married to Baskin at the time, though there were rumors that their relationship was on pretty shaky ground. The Netflix series investigates allegations that Lewis took out a restraining order against his wife just before he disappeared. And then there's Joe Exotic, who has produced video blogs and even music videos alleging that Baskin murdered Lewis and either buried him under a septic tank on her 40-acre big cat sanctuary, or fed his body to her hundreds of big cats. Yes, for anyone reading this who hasn't watched the series, it is actually this insane. Also, you need to listen to "Here Kitty Kitty" immediately if not sooner.
After Tiger King aired, Baskin wrote a blog post on her website where she denied having anything to do with Lewis' disappearance.
"Don was not easy to live with and like most couples, we had our moments. But I never threatened him and I certainly had nothing to do with his disappearance," she wrote. "When he disappeared, I did everything I could to assist the police. I encouraged them to check out the rumors from Costa Rica, and separately I hired a private investigator."
Whatever the outcome of the new investigation, maybe it will mean new material for Kate McKinnon, who's starring in the limited series based on Tiger King. She's playing Baskin herself, and no matter what, we know that will be a series worth watching.
Now that Tiger King has been getting so much attention, it's possible that someone could come forward with the information police need. Someone, somewhere in the world (like Costa Rica, maybe?) must know what happened to Lewis. Whether Baskin was involved or not, the world just wants to know the truth.