9 Couples Renew Their Vows At Senior Care Center, Bring Staff To Tears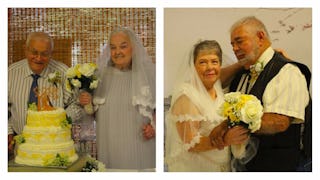 Image via Facebook
The couples celebrated a combined 254 years of marriage
A North Carolina senior care group helped elderly couples renew their wedding vows, and you might want to check yourself before seeing the photos of these adorable couples. Because the tears will roll.
On June 22, Carolina SeniorCare in Lexington, North Carolina facilitated an unbelievably cute vow renewal event for nine couples. SeniorCare makes it possible for its residents to live independently while still receiving any help they need with medical care, meals and transportation. According to ABC News, most of the couples feted in the ceremony couldn't afford a big wedding when they first got married, so this was their chance.
Linda Owen and husband Sam have been married for 56 years, but the first time around wasn't too fancy. "I didn't have a wedding dress when we first got married," Linda shares. "This time I had the white wedding dress and the veil and it was very nice."
Could they possibly be any more adorable?
The mass ceremony was made possible by the local community with people donating dresses, veils, suits, a cake, as well as pampering services for the ladies.
The results of their efforts are hard to argue with — just look at these beautiful, happy couples.
Misty Polston-York, director of spiritual life for Carolina SeniorCare, explains the inspiration behind the idea. "Sitting down and speaking with them, most of them weren't able to afford a real wedding, and we were thinking June is the month for weddings, so why not provide a wedding service for them that they weren't allowed to have when they were young?"
Iris Ingram, one of the brides, got an extra special surprise along with her vow renewal to husband Clifton. A wedding band. "I've been married 40 years and it meant a lot when I got these rings," Iris shares through tears. "My husband said I deserved it." Clifton organized a dinner date to give her the rings, totally surprising Iris, who thought she was heading out for a doctor's visit. "You wouldn't believe it – I thought I was going to the foot doctor. It was like a dream," she says.
Polston-York says that overall, the event went over perfectly. Not only did the couples get to dance and eat cake, they also got to have their photo taken with a backdrop and cut the cake.
And they still have one little surprise left for the couples. "We're making a little book for them to have of that. It was an overwhelming success. We had standing room only. All the staff came to see it and they were all in the background crying," says Polston-York.
Seeing this community willing to go so many extra miles to do something incredibly meaningful for these couples is nothing short of heart-warming. The looks on their faces is all the proof needed that the event was worth all the effort.
With a combined two-and-a-half centuries of marriage between them, Polston-York also sees the couples as an example worth celebrating. "It's really amazing in this time when marriages are fleeting," she says. "These people have stuck it out over their lifetime."
This article was originally published on