Mom's Post Nails Why Kat Von D's Vocal Anti-Vaccine Stance Is Dangerous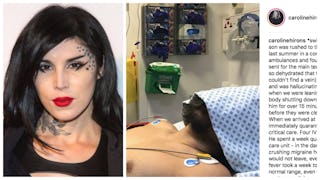 IMAGE VIA GABRIEL OLSEN/FILMMAGIC/Instagram/Caroline Hirons
Mom's post calls out Kat Von D for her 'arrogant' anti-vaccine choice
When famous tattoo and makeup artist Kat Von D took to her Instagram account to share her anti-vaccine stance with the world, she received some major backlash. One mom in particular offered a heartbreaking but very important response to Von D's post — and it's a must-read.
Von D, who is currently pregnant with her first child, says she plans on "having a natural, drug-free home birth in water with a midwife and doula, who has the intention of raising a vegan child, without vaccinations."
Caroline Hirons, mom and beauty industry expert, took major issue with Von D's vocal public stance. She shared a lengthy Instagram post of her own, highlighting the danger in being a public persona who chooses to be anti-immunization.
Within the past few years, Hirons' son Dan became dangerously ill with mumps. She shares he was rushed to the hospital with a raging fever, hallucinations, and a severe migraine.
"He couldn't see us when we were leaning over him," she writes. "He felt his body shutting down." She says that for 48 hours, Dan was quarantined in the critical care unit of the hospital. "His fever took a week to come down within normal range, even with the best of modern medicine available. At the time he was a 23-year-old man, fitter than most, who played football for approx 4 hours a day. Mumps felled him."
Hirons says during that time, he lost approximately 30 pounds, and has no doubt that without intensive medical intervention, "he would not be here." She begs people to imagine if that had happened to a baby, or to someone with a compromised immune system — this is why herd immunity is so incredibly important.
"When I see people like Kat Von D using their platform to promote raising her unborn child 'without vaccinations', I want her and the drones of ill-advised people underneath, including to see and know that this is the reality of 'benign diseases,'" she writes. "You have the absolute unbelievable arrogance of a 'choice' because the rest of us responsible people/parents DID vaccinate. These diseases were almost gone, now they are back because some people think they know better than all the scientists, physicians and specialists in modern science."
While celebrities have every right to share their opinions on hot-button issues just like anyone else, the big thing that separates The Famous from the Regular Folk is this: famous people have a public platform and following that regular people do not. So when celebrities sound off about politics, current events, and offer controversial stances (like being anti-vaccine) — they need to realize the heavy influence they can have on many people. That bears some responsibility on their part to not be ill-informed or spread misinformation. Time and time again, numerous studies have shown there is no direct link between vaccinations and autism.
When Jenny McCarthy became outspoken against vaccinations in the early aughts, the anti-vaccine movement gained real traction. So much so, in fact, that there's a website called Jenny McCarthy Body Count dot com — it regularly updates the number of "preventable deaths" from 2007-on due to unvaccinated people and the resurgence of diseases like mumps and whooping cough.
In her post, Hirons says she doesn't blame those who are unable to receive vaccines, because "you are who the rest of us should be trying to protect." Hirons says as for her son, he urged her to tell his story in full detail. "He's our hero."
This article was originally published on