Family Said To Be Planning Joint Funeral For Debbie Reynolds And Carrie Fisher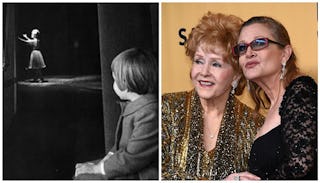 Billie Lourd is grieving the loss of her mother and grandmother, who died a day apart
Last week we lost two of our greatest stars: Carrie Fisher and her mother, Debbie Reynolds. Now, their families are planning a joint funeral for the two, who died just a day apart.
On Friday, December 23rd, Fisher, age 60, suffered a heart attack while on a flight from London to Los Angeles. She died four days later. The next day, Fisher's mother, the great Debbie Reynolds, and Fisher's brother, Todd, were at his home planning Fisher's funeral. According to Todd, she told him how much she missed Carrie and that "she would like to be with her again." Fifteen minutes later, Reynolds had a stroke. She died just a few hours later.
Before Fisher's death, Reynolds made this post on her Facebook page, referring to herself only as "Carrie's mother":
Since these two losses, so great and so unthinkably close together, Billie Lourd has stayed away from the media, only releasing a statement through the family's spokesperson confirming Fisher's death. It's difficult to imagine what she's going through right now. For many of us, the idea of losing our mothers is enough to destroy us — to lose a grandmother as well, just one day later, would bring us to our knees.
Fisher and Reynolds' relationship was notoriously complicated. Fisher wrote about her upbringing with her mother in two of her wonderful books, the novel Postcards From The Edge, which later became a movie starring Meryl Streep, and Wishful Drinking, her first memoir. But despite all the chaos and friction, it was clear that the two loved each other deeply.
Lourd's relationship with Fisher appeared to be a wonderful one, and the two had expressed their admiration of each other many times. In an interview with People Magazine in May, Lourd said of her mom, "I'm always proud of my mother, she's killing it right now. She's incredible." Fisher felt no less proud of Lourd, as she said in this tweet from October:
Lourd also had a great relationship with her grandmother, who lived with Lourd in her home. Lourd called her "an incredible grandmother" who was delighted with Lourd's work on the show, Scream Queens. "She thinks it's hilarious, she loves it so much," Lourd said. "She loves the costumes. [She's] obsessed with fur and ear muffs and all of that."
Lourd's uncle, Todd Fisher, is trying to arrange for a joint funeral. Fisher told The Daily News that "It's what we want to do, but we're still working on the mechanics…I'm going out right now to look at places. We like the idea, if it's at all possible. I think it's appropriate." Though planning a joint service for two people who were beloved by so many will no doubt be a challenge, it seems that — given the timing of their losses and the bond the two shared — a joint service would be the perfect way to say goodbye.
Messages of support have been pouring in for Lourd on social media:
But no message has been quite so moving as the one posted on Instagram by her stepfather Bruce Bozzi, who is married to her father, Bryan Lourd.
"It's an honor to be your stepfather, he wrote. "The strength of these women live so vibrantly in you."
We wish Lourd all the strength and love she will need to get through this difficult time.