Carrie Underwood Uses CMA Stage To Reveal Sex Of Her Baby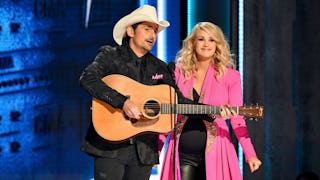 Image via Erika Goldring/Getty Images
"Waylon or Willie?" Carrie Underwood revealed big news at last night's CMAs
During last night's Country Music Association Awards, Carrie Underwood, along with co-host, Brad Paisley, revealed the sex of her second child. It was a bit of deja vu as the superstar also shared the sex of her first child at 2014's CMAs — and Paisley played a huge part in that too.
In 2014, Paisley famously spilled the beans that Underwood was having a boy prompting the hashtag #BradBlewIt to, well, blow up. Four years ago, he accidentally shared the news by suggesting she name her unborn child Garth — hint, hint, it's a boy.
This year, he joked that the big reveal would be who the father was, garnering laughs from Underwood's husband Mike Fisher, who say in the audience. Then, he returned to the name schtick until Underwood finally admitted — it's a Willie.
"Seriously Carrie, give me a little baby hint," he said. "Johnny or June? Keith or Nicole? Garth or Trisha? Tim or Faith? George or Tammy?" She refused to confirm anything until Paisley asked, "Waylon or Willie?" aka, country legends Waylon Jennings or Willie Nelson?
A jokingly exasperated Underwood finally answered, "Oh, my gosh … Willie. It's a Willie, OK?"
Paisley gleefully took to Twitter to shout the exciting news from the social media rooftops.
This time, it's Carrie who blew it.
This means Underwood and Fisher's three-year-old son, Isiah, will be a big brother to a little brother. Awwww.
Paisley also very sweetly gifted Underwood with a bubblewrap dress to keep herself and her unborn son safe throughout the rest of her pregnancy, a nod to her awful accident just days after last year's CMA awards that left her with a broken wrist and facial injury requiring more than 40 stitches.
Sending so many vibes for Underwood to stay safe the rest of her pregnancy — and that little Willie doesn't mind Brad Paisley trying to steal his baby thunder.