Carrie Underwood On How She Dealt With Suffering Three Miscarriages: 'I Got Mad'
by Cassandra Stone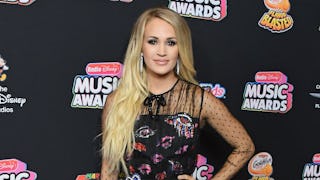 Image via Jon Kopaloff/FilmMagic
Carrie Underwood reveals she suffered three miscarriages in less than two years
Carrie Underwood has revealed she suffered from three miscarriages during the past two years, before becoming pregnant for the fourth time. She opens up about the heartbreaking experience on CBS Sunday Morning, where she talks about the losses she and her husband, Mike Fisher, endured and how her grief inspired her latest album.
Underwood, who suffered a serious fall last year that required between 40-50 stitches in her face, admits 2017 wasn't the best year for her personally. "I'd kind of planned that 2017 was, you know, going to be the year that I work on new music, and I have a baby," Underwood, 35, said. "We got pregnant early 2017, and didn't work out."
Underwood and Fisher are already parents to Isaiah, who is three. She says she became pregnant again early this year, and suffered a second miscarriage soon after. After becoming pregnant again a few months later in the spring, she suffered another heartbreaking miscarriage.
She opens up about feelings any mom who has suffered through miscarriages or grief can relate to — she talks about her anger. "I had always been afraid to be angry," Underwood says. "Because we are so blessed. And my son, Isaiah, is the sweetest thing. And he's the best thing in the world. And I'm like, 'If we can never have any other kids, that's okay, because he's amazing.' And I have this amazing life. Like, really, what can I complain about? I can't. I have an incredible husband, incredible friends, an incredible job, an incredible kid. Can I be mad? No."
But she did get mad. She says one night, during her current pregnancy, she felt as though she were having another miscarriage and started to panic. She texted her husband, who was away for the night, to come home. Then she went and snuggled with Isaiah and cried. "And I was like, 'Why on earth do I keep getting pregnant if I can't have a kid? Like, what is this? Shut the door. Like, do something. Either shut the door or let me have a kid.'"
She says when she went to the doctor, she assumed they would confirm another miscarriage — but was told everything was "great." And now she and Fisher are due next spring. She says the pain of what she was going through juxtaposed with the image she presented to the world, which is what inspired her newest album's title track, "Cry Pretty." The lyrics in the song talk about living through personal strife but putting on a smile — something Underwood would have to do for work, without anyone knowing what she was going through.
"I feel like there's a lot of songs, there's several songs on the album that came from that, you know, or I connect with in a totally different way because of those experiences that we went through," she said. "And they were hard. And it sucked so much. But things are looking better."