Carrie Underwood's Son Gives Brutally Honest Answers On 'All About Mom' Sheet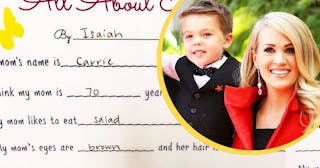 Carrie Underwood/Instagram and Michael Tran/Getty
Carrie Underwood's son is just like all of our children in that he perfectly and unintentionally roasts her
We may not all have Carrie Underwood's life, but we can all relate to her reaction to her son's latest homework assignment. The singing superstar (who also raps, believe it or not) shared a photo of some questions her son, Isaiah, who is four, answered about her and yes — it will make you LOL and say "same." Because what are kids good for if they're not brilliant and unintentionally roasting us?
Especially a four-year-old. As someone who has one of these delightful creatures, I can attest that this is the perfect age for hilarious answers and explanations for things. And little Isaiah Fisher is no different.
If Carrie Underwood is 70, then Jennifer Lopez is getting a run for her money at 50 — these women look amazing! (I kid, I kid — though both of them do, in fact, look fantastic — age be damned.)
"My mom likes to eat salad" is funny because, while Underwood may in fact enjoy salad very much, it's probably not the first answer she'd put down as her favorite food. And also can we just please give a collective "aww" to the "My mom always says 'I love you'" answer? That'll tug at the heartstrings for sure.
And then comes the question about Carrie Underwood's hobbies. What does Carrie Underwood like to do? One might say "sing," for instance. Or play guitar. Or enjoy admiring her killer gams (best legs in show business, hands-down). Or do fun things with her kids and husband. But no, no, no, all of these are incorrect, according to Isaiah.
Because what Carrie Underwood really likes to do is… LAUNDRY!
Yes, that sound you hear is the collective groan of moms everywhere. Much like the salad, just because kids see something happening a lot doesn't mean it's something we love! But they're kids, and they don't know that. Yet.
Carrie Underwood, who also has a one-year-old son named Jacob, has been known to share some pretty adorable tidbits about her life as a mom, and this little questionnaire is right up there.
And her oldest son has already proven he's a huge sweetheart before, when he tied her shoes while she was heavily pregnant with his brother.
At least he knows his clothes don't just get washed on their own, right? So funny. And so sweet.