Carson Daly Shares Very Relatable Reason For His Recent Weight Gain
by Julie Scagell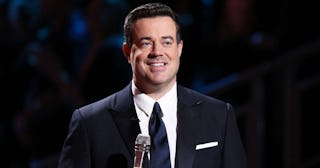 NBC
Carson Daly opens up on Twitter about his recent weight gain
Carson Daly is in the public eye a lot these days. He's a host on NBC's The Today Show, The Voice, and Last Call with Carson Daly. He won some of our (older) hearts on MTV's TRL way back in the day. Spending that much time in front of the cameras means certain visibility and concentration on your appearance, which Daly felt the need to explain in a recent social media post.
Daly has been brave in the past about his struggle with generalized anxiety disorder and how it's impacted his life. One aspect he recently commented on is how it's affected his weight. "Fun fact: I assumed recent weight gain was a side effect from an anti-anxiety drug I started," he shared on Twitter. "Turns out it's just working. The calmer/happier me is in a better mood & appetite increases."
It's unusual for men to speak openly about their bodies and their mental health — to do so in such a public forum is not only refreshing but critically important as so many of us struggle with the same issues privately and feel we're alone.
Fans were quick to thank him for his frankness:
https://twitter.com/jetpack/status/1113842904131354625https://twitter.com/jetpack/status/1113913429629317122
https://twitter.com/jetpack/status/1113954672648364032
Daly said he went to the doctor about his weight gain, assuming it was a medication side effect — turns out, it wasn't. "She goes, 'No, there's not really a weight side effect. Officially, what's happening is that for the past seven, eight months, you're experiencing a new, calmer, less anxious version of yourself. Actually, it means the drug's working,'" Daly said on Today. "She was right. When I look back, I found I have a whole new happiness and lease on life. I can do anything. I feel like Superman."
He's been extremely open about his struggles with mental illness in the past, as well as the life-changing loss of his mom and step-father in short succession. "My anxiety and happiness are closely correlated, they're just on opposite sort of paths," he explained. "So I'm a little sensitive to being nervous on one side, but also I get great joy and great happiness from certain sources and that's an incredible experience."
He also talked about his anxiety on Today last year, admitting he had his first panic attack while working at MTV and a friend convinced him there was help out there. "What happens is you end up celebrating life, which means you eat and drink like a king," he said.
The father-of-three with wife, Siri, should be commended for his honest approach to speaking about the good and the bad in his life. He's using his public platform to help others and opening the lines of communication about something so many of us suffer from, which is why he deserves all of the applause.
This article was originally published on