Viral C-Section Paintings Remind Women Their Birth Experience Is Special, Too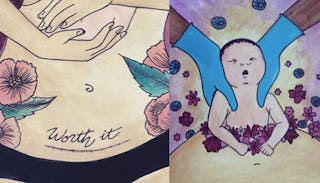 Image via Instagram/spiritysol
Catie Atkinson's birth paintings are perfect for C-section mamas
April is Caesarian Awareness Month, the predominant purpose of which is to — you guessed it — raise awareness about C-sections in hopes of reducing the amount of unnecessarily performed Caesarians. Because C-sections mean major abdominal surgery, an incredibly painful recovery, plus taking care of a newborn. To put it bluntly: they're no walk in the park.
But C-section births are births, and they're messy and beautiful just like vaginal births. Which is why one artist decided to depict them in the most stunning way.
Catie Atkinson, a New Mexico-based artist, makes her living by painting the beauty of motherhood. A few of her works recently went viral in a Facebook post shared for Caesarian Awareness month, and for good reason — they're breathtaking.
Above the incision scar is the text, "Magic happened here." Magic indeed. Atkinson has plenty of beautiful works similar to this one available in digital print form in her Etsy shop, Spirit y Sol.
"Cesarean mamas- this one's for you," Atkinson writes. "I hope you know that you are worthy. That you are a warrior. That you are brave and powerful and strong as fuck. I hope you know that birthing your baby on an operating table makes you no less of a mother. No less of a goddess."
"My work is inspired by my own experiences as a mama and by the beauty and strength I see in other mothers," Atkinson tells Scary Mommy. "I want to create art that acts as a mirror so that in those rough, raw, challenging moments of motherhood, women can be reminded of how powerful and beautiful they truly are."
Atkinson says she's been creating art her whole life, but becoming a mom is what truly inspired her to take her work in this particular direction. "I began painting at my kitchen counter when my oldest son was a toddler as a creative outlet and a calming tool for those chaotic moments," she says.
All of her works are truly inspirational for mamas everywhere — there's something for everyone in her paintings, no matter how your birth experience went down. It's wonderful that C-section moms can find a piece of art to honor the way their babies entered the world, too. Because either way, it's no easy feat.
"Whether we birth our babies at home or on the operating table, there are some universal stories that we all share as mothers and my goal is to capture those experiences on paper."
This article was originally published on