These 2 Cats Have Spent Years Trying To Sneak Into An Art Museum
by Valerie Williams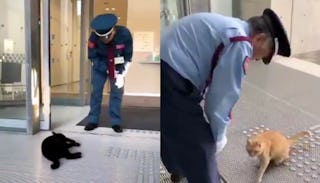 Image via Twitter/Rajiv
A pair of cats want to experience a little culture and these museum guards keep stopping them
Do you feel like you're pretty persistent in accomplishing your goals and dreams? That's cool. Just know that you're still not as determined at anything as this pair of cats are at gaining entry to a Japanese art museum.
And you never will be.
According to The Dodo, Ken Chan and Go-Chan are just two feline art enthusiasts trying to get a little culture, but they keep being thwarted by the super diligent security guards at Hiroshima Onomichi City Museum of Art.
It all started two years ago, when, very fittingly, the museum debuted a show called, "Cats — Mitsuaki Iwago Photography Exhibition." That's when Ken Chan decided to shoot his shot — and failed because of the very alert guard.
Ken Chan wasn't dissuaded and returned months later only to be unceremoniously turned away. Again.
Soon, his partner in crime, Go-Chan, started popping up every so often, though the museum reports that he's not as pushy about it as Ken Chan.
He just low-key really wants to pop in for a minute. And then probably immediately ask to be let back out, as is his right as a cat.
They simply refuse to give up, which is pretty dang inspirational, really.
Just hustling every day for a chance to absorb the beauty of traditional Japanese art — if not for the mean old hoomans standing in their way.
Their dogged (see what I did there?) efforts are so well-known that Ken Chan's even the subject of a cute tote bag sold in the museum's gift shop.
They may never get in, but it's endlessly entertaining watching them try.
Please enjoy this delightful video of several times where security has made this dynamic duo turn on their paws and scurry off.
The guards have clearly developed an affection for the pair, but still, NO ART FOR YOU.
Keep trying, kitties. We have faith in you.