E! News Host Resigns After Learning Male Co-Host Makes Twice Her Salary
by Meredith Bland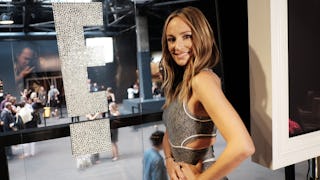 Image via Jason Kempin/Getty Images
E! refused to pay Sadler the same as her male cohost
After 12 years at E! News, Catt Sadler is leaving what she once called her "dream job" after learning that her co-host, Jason Kennedy, makes almost twice her salary.
As we've seen in the news recently, women put up with a lot of garbage in the workplace, and often, we do it silently. One of the many obstacles working women still face is the very real gender wage gap. Sadler is the latest high-profile woman to be affected by this, something she learned after an unnamed executive at E! told her that, as she writes on her website, The CattWalk, "…there was a massive disparity in pay between my similarly situated male co-host and myself…In fact, he was making close to double my salary for the past several years."
Sadler took this information into her contract negotiations with E!, but when she and her team asked for a pay increase that would bring her salary close to Kennedy's, the network refused. "I have two decades experience in broadcasting and started at the network the very same year as my close friend and colleague that I adore," she wrote. "…But how can I operate with integrity and stay on at E if they're not willing to pay me the same as him? Or at least come close? How can I accept an offer that shows they do not value my contributions and paralleled dedication all these years? How can I not echo the actions of my heroes and stand for what is right no matter what the cost? How can I remain silent when my rights under the law have been violated?"
E! denies that pay equity had anything to do with Sadler leaving. In a statement to CNN, the network said: "E! compensates employees fairly and appropriately based on their roles, regardless of gender. We appreciate Catt Sadler's many contributions at E! News and wish her all the best following her decision to leave the network."
If that sounds to you like an "eff you" to a longterm employee, you're not wrong, and it's why so many women are afraid to speak up about issues like salary disparities or workplace harassment — even if you've been with the company for over a decade, are considered one of the faces of the network, and have been a loyal and hardworking employee, you could still be cast aside in a heartbeat and called a liar.
Sadler, a single mom to two boys, admits that this was a difficult decision, but one that she felt she had to make not just for herself, but for all women: "Countless brave women have come forward this year to speak their truth. Females refuse to remain silent on issues that matter most because without our voices, how will we invoke lasting change? How can we make it better for the next generation of girls if we do not stand for what is fair and just today?"
"I will find more work. I will create content with meaning. I will continue to pursue my passions while making my children proud. The way I see it, I have an obligation to be an agent for change."
Sadler's last day was Tuesday.
This article was originally published on