CDC's New Breast Pump Cleaning Guidelines Are A Must-Read For Nursing Moms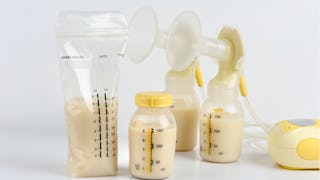 Image via Shutterstock
CDC releases breast pump cleaning guidelines after death of infant
Any mother that's currently pumping, or has before, knows that it's no joke. It's a commitment. There's so much to keep track of as a pumping mom, and thanks to new guidelines, moms have even more on their plate, er pump.
It's a lot, but it's all very necessary, according to the Centers For Disease Control and Prevention. They released a report this week about baby who died from a rare and serious infection caused by improperly cleaned breast pump parts. The investigation led the CDC to look into current pump-cleaning standards, and they found this: there isn't much.
"In response to the investigation, we reviewed existing resources for women about how to pump breast milk safely, but found little guidance that was detailed and based on the best available science," Dr. Anna Bowen, a CDC medical officer, tells Parents. "As a result, CDC developed its own guidance."
These new guidelines state that you need to clean your pump parts after every. single. use. And not just with breast pump wipes, like wash with running water and soap. We're sorry mamas, we know it's a lot. Additionally, it's recommended that you wash your hands before touching your pump parts or pumped milk, that you keep a completely separate wash basin for the parts (not the kitchen sink), a dedicated wash brush (not the sponge you use for dishes), and that the parts be air-dried. For extra cleanliness you can boil or steam the parts to sanitize in either a microwavable steamer or use the sanitize cycle in the dishwasher.
The report indicated that the mother was soaking breast pump parts for several hours in soapy water and then leaving them to air dry. The water was apparently the perfect breeding ground for the germs, which ended up contaminating the pump.
It's still worth noting however, that the baby was born premature at 29 weeks and likely had a weakened immune system. Furthermore, the baby contracted Cronobacter infection which is so rare that the CDC only hears about four to six cases a year. And according to the CDC, Cronobacter can also be found in baby formula.
Considering that a baby died and how tragic that is, it seems these guidelines are vital. It's sad, it's heartbreaking, and it's scary as hell to think about as a parent. But admittedly, as a working mom who's been there, I cringed a little bit. I worked from home, but I remember working moms in my former office lugging the parts, trying to find a private place to pump (yup, the women's bathroom), cleaning the parts (in the communal kitchen sink), and having to remember to bring everything they needed the next day, and the next day. It's a struggle, and now they will have that much more to worry about.
But knowledge is power, and every parent wants their children to be healthy. It's encouraging that the CDC is taking steps to help moms by giving official information on how to keep their breast milk sterile.
"Providing breast milk is one of the best things moms can do for their babies, and there are steps parents can take to keep the pumped milk as safe as possible," Dr. Bowen says.