CDC Predicts More Than 90,000 COVID Deaths During The Next 3 Weeks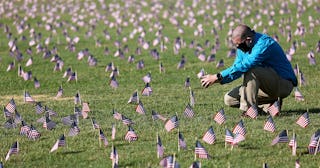 Win McNamee/Getty
More than 38,000 Americans have died of Covid-19 in the first two weeks of 2021
According to a new forecast published by the Centers for Disease Control and Prevention, 92,000 Americans are projected to die during the next three weeks from COVID-19. More than 38,000 Americans have died of Covid-19 in 2021 so far, and it's only the second week of January.
The ensemble forecast put together by the CDC shows an almost 25% increase in total deaths from the virus. These terrifying, dismal numbers are a reflection of a brutal winter upheaval in numbers, likely due in large part to holiday gatherings.
According to the CDC, an "ensemble" forecast combines each of the independently developed forecasts by experts into one aggregate forecast to improve prediction over the next 4 weeks. Both national- and state-level ensemble forecasts are developed for predicting new and total COVID-19 deaths reported each week for the next four weeks
The national ensemble forecast, an aggregate of a number of independently developed data-based predictions, projects up to 477,000 total Covid-19 deaths reported across the U.S. by February 6, an increase of over 90,000 in three weeks.
The Covid Tracking Project, a comprehensive report of daily data gathered from each state, shows more than 130,000 people are currently hospitalized with the virus nationwide. COVID deaths are up an average of 10% or more in 25 states, with more than 4,000 people dying on average every day.
The data shows that the anticipated COVID surge following the holidays has arrived, as the U.S. reached its highest daily death rate on Tuesday — a record 4,327 people died from the virus. The seven-day average for deaths rose from about 2,600 people per day to about 3,300, according to the New York Times.
The anticipated surge following holiday gatherings has now arrived, leading to a stunning number of cases, hospitalizations, and deaths rising every day.
On Tuesday alone, a record 4,327 people in the U.S. died from the virus, according to Johns Hopkins University. In just the past week, a New York Times tracker showed the seven-day average for deaths rose from about 2,600 per day to about 3,300. And the numbers are only rising.
"We went from a very high baseline level of infections to even higher," Dr. Anthony Fauci said at a forum hosted by Schmidt Futures on Tuesday. "And as we've seen over the past week and a half or so since the ending of the holiday season, everything seems to be a record."
"We're in a very difficult situation and it is getting worse," he added. "I hope that as we get towards the end of January, that we'll see a peaking and a turning around, particularly if people hang in there and don't get discouraged by COVID-19 fatigue and let down on their public health measures."