CDC Director Says Schools Can Safely Reopen Without Vaccinating Teachers
by Christina Marfice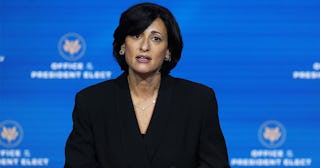 Chip Somodevilla/Getty
The Director of the CDC, who has never been a teacher, wants schools to reopen before teachers can get vaccinated
A war is still waging between teachers who want safe work conditions, and a government and public increasingly calling for schools to reopen for in-person classes, despite the threat of COVID-19. Now, Rochelle Walensky, the head of the CDC, has said publicly that in-person learning can safely resume before teachers are able to get vaccinated against the coronavirus.
"There is increasing data to suggest that schools can safely reopen and that safe reopening does not suggest that teachers need to be vaccinated," Walensky told reporters during a press briefing at the White House. "Vaccinations of teachers is not a prerequisite for safely reopening schools."
Jen Psaki, the White House press secretary, later walked back on what Walensky had said, telling reporters that her comments were not "official guidance" from the CDC.
The CDC's advisory panel on vaccine distribution has put teachers second in line to receive vaccinations — as part of a group of "essential workers," right behind healthcare workers and residents of longterm care facilities where the virus tends to spread very quickly. Those are only recommendations, though, and states have the final say about how to distribute their vaccine supplies, and to whom. Recent news analysis has shown that even though most states have moved beyond just vaccinating healthcare workers, teachers are only eligible in about half of states right now.
It's definitely worth noting that Walensky is not and never has been a teacher. She has no idea what it's like to instruct kids in a classroom, and why so many teachers have pushed back against hastily reopening schools. COVID cases are higher in the U.S. than anywhere else in the world, and so far, this pandemic has killed 450,000 Americans. Teachers have died from the virus. We should not be asking more teachers to risk their lives when there are safer alternatives, like remote learning.
The vaccines are coming. There's a light at the end of the tunnel. But there won't be an end to the pandemic until the majority of Americans get vaccinated, and until that happens, we shouldn't be forcing teachers into dangerous positions. It may only be a few more months until we can get all of our nation's teachers vaccinated. Instead of rushing to reopen schools, we should focus on getting shots in educators' arms. That's worth waiting for.