CDC Now Recommends That All Americans Wear Cloth Face Masks In Public
by Madison Vanderberg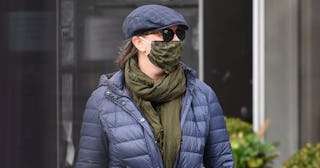 ANGELA WEISS/AFP via Getty Images
CDC publishes guidelines on wearing cloth face masks in public
After a lot of hemming and hawing on the topic of wearing face masks in public, the Centers For Disease Control and Prevention has officially recommended that all Americans wear non-medical face masks in public. The CDC, in tandem with the federal government, announced on Friday, April 3, 2020, that we should all be wearing cloth face masks in public, and especially in spaces where it's difficult to maintain six feet of distance, like the grocery store.
According to the CDC, the reason for the recommendation is that "recent studies [show] that a significant portion of individuals with coronavirus lack symptoms ('asymptomatic') and that even those who eventually develop symptoms ('pre-symptomatic') can transmit the virus to others before showing symptoms." This means that many people with coronavirus will not have any symptoms, so they continue to move about society, unknowingly spreading the disease. Wearing a mask isn't to protect you from catching the virus, but rather, to prevent you from spreading it to someone else, but if we all do our part and wear a mask, we can work to flatten the curve.
The CDC made it clear that the masks they are referring to are non-medical cloth masks. Do not stockpile surgical masks or N-95 respirators — assuming you can find any — as those are "critical supplies that must continue to be reserved for healthcare workers and other medical first responders," according to the CDC.
"It is critical to emphasize that maintaining 6-feet social distancing remains important to slowing the spread of the virus," the CDC stated. "CDC is additionally advising the use of simple cloth face coverings to slow the spread of the virus and help people who may have the virus and do not know it from transmitting it to others. Cloth face coverings fashioned from household items or made at home from common materials at low cost can be used as an additional, voluntary public health measure."
Despite the fact that the federal government is now recommending Americans wear face coverings in public, Trump also stated that the CDC's guidelines are voluntary and that he probably wouldn't partake.
"I don't think I'm going to be doing it," Trump said on Friday (via CNN). "Wearing a face mask as I greet presidents, prime ministers, dictators, kings, queens — I just don't see it."
Despite the new guidelines, it's not that easy to acquire a mask right now. Most Etsy and Amazon retailers won't ship their masks until mid-April, and not everyone knows how to sew their own. However, there are options. Despite Trump's refusal to wear a mask of his own, he suggested wearing a scarf or a bandana around your mouth, which appears to be cosigned by the CDC. There are also some no-sew mask hacks that have gone viral online.
The biggest takeaway here is that we all continue to practice social distancing. Wearing a mask doesn't mean you can drop the six feet rule. Continue isolating at home except for necessary excursions, wash your hands regularly, and don't touch your face. Stay safe out there.
Information about COVID-19 is rapidly changing, and Scary Mommy is committed to providing the most recent data in our coverage. With news being updated so frequently, some of the information in this story may have changed after publication. For this reason, we are encouraging readers to use online resources from local public health departments, the Centers for Disease Control, and the World Health Organization to remain as informed as possible.